Elephant seals recognize rivals by the tempo of their calls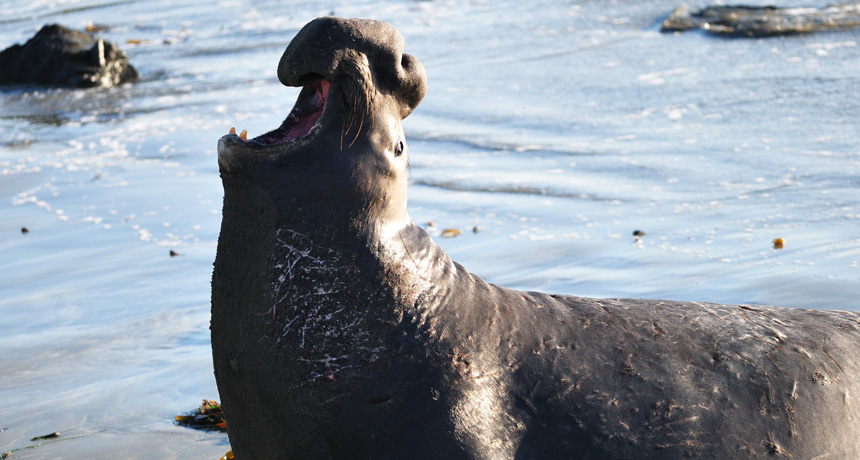 The tempo of a male elephant seal's call broadcasts his identity to rival males, a new study finds.
Every male elephant seal has a distinct vocalization that sounds something like a sputtering lawnmower — pulses of sound in a pattern and at a pace that stays the same over time.
At a California state park where elephant seals breed each year, researchers played different variations of an alpha male's threat call to subordinate males who knew him. The seals weren't as responsive when the tempo of that call was modified substantially, suggesting they didn't recognize it as a threat. Modifying the call's timbre — the acoustic quality of the sound — had the same effect, researchers report August 7 in Current Biology. Unlike dolphins and songbirds, elephant seals don't seem to vary pitch to communicate.
Science News headlines, in your inbox
Headlines and summaries of the latest Science News articles, delivered to your email inbox every Friday.
Thank you for signing up!
There was a problem signing you up.
From astronomy to zoology
Subscribe to Science News to satisfy your omnivorous appetite for universal knowledge.
Those vocal name tags serve a purpose. During breeding season, male elephant seals spend three months on land without food or water, competing with rivals for social status and mating rights. Fights between two blubbery car-sized animals can be brutal.
"We've seen males lose their noses," says Caroline Casey, a biologist at the University of California, Santa Cruz. For lower-ranking males, identifying an alpha male by his call and then backing off might prevent a beach brawl.