Chemical behind popcorn's aroma gives a bearcat its signature scent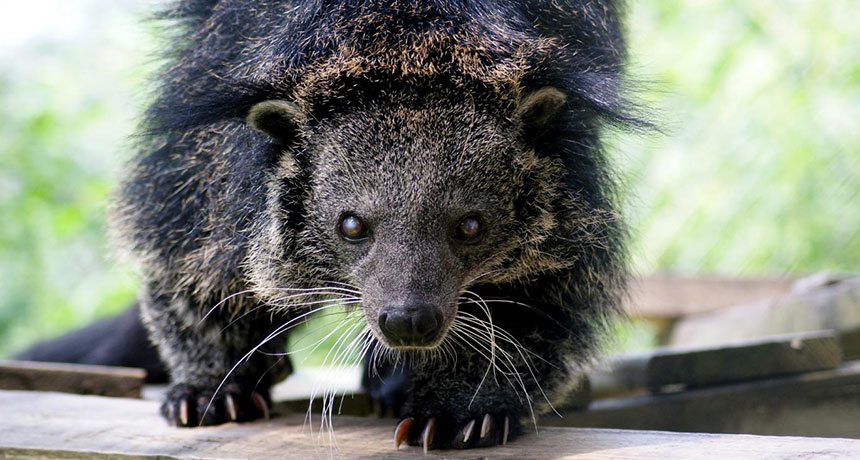 Imagine that you're walking through a secluded forest somewhere in Southeast Asia. You're far from modern conveniences, like electricity. The trees overhead block out much of the light. It's quiet, except for the sounds of ruffling leaves or the calls of birds. Suddenly, you're struck by the scent of popcorn.
You'd probably think you were going nuts. But you might have just picked up the trail of a bearcat, also called a binturong, a rare carnivore that sports a bushy, prehensile tail and is most closely related to the civet. And the animals' popcorn scent is so pronounced that many zookeepers name their bearcats after the buttery movie snack.  
The source of the scent, though, has been a mystery. Now Lydia Greene of Duke University and colleagues have found that the chemical that gives popcorn its delightful scent, 2-acetyl-1-pyrroline (2-AP), is also found in bearcat pee. They report their finding in the June issue of The Science of Nature.
As anyone who has ever owned a dog will know, urine is a key way that carnivores mark their territory. But the chemicals inside urine can also help an animal advertise who they are and if they're ready to mate, as well as provide ways for a group of animals to maintain hierarchies or bonds between individuals.
Bearcats, like other carnivores, leave these chemicals wherever they go — but they're a bit more aggressive about it than your pet poodle. A binturong pees in a squat, which soaks its feet and tail in smelly urine that is left behind with every step. Greene's team investigated the composition of the animal's pee to see how chemicals might influence how females maintain their social dominance over males. Of the 29 chemicals they detected in the urine of 13 female and 20 male bearcats living in captivity at the Carolina Tiger Rescue in Pittsboro, N.C., only one could be found in the pee of every animal: 2-AP.
The chemical, the researchers write, "likely explains the binturong's signature scent," and "may serve as a species identifier."
Just where the chemical is coming from, though, remains unknown. The researchers checked the animals' food and didn't find any traces of 2-AP. One possibility is that bacteria in the bearcats' gut or elsewhere are responsible. Bacillus cereus, commonly found in the intestines of vertebrates, is known to synthesize 2-AP.   
But the chemical probably isn't getting into bearcats in the same way as popcorn. That's because 2-AP isn't found in popcorn until the kernels have undergone the high heat necessary to pop the corn — an unlikely activity for jungle-dwelling mammals.