Last summer, the Discovery Channel temporarily suspended airing its hit survivalist show Man vs. Wild. The producer admitted that the protagonist would get help from staff or spend nights in hotels — all along claiming to rough it alone in the world's most inhospitable places. Yet, Man vs. Wild was not the first high-profile case of possible "frontier fakery."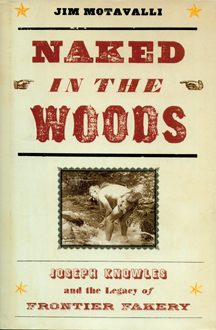 In August 1913, Joseph Knowles, a former Boston Post illustrator, one-time trapper, hunting guide and Navy man, went into the Maine woods on a solitary retreat. Starting out with nothing, not even clothes, Knowles thrived for two months by catching fish, gathering roots and berries, and killing game, the Post recounted in frequent updates.
Knowles' feat was touted as a "scientific experiment" to demonstrate that humans could still make it when deprived of the conveniences of modern life. He was a short-lived media sensation.
But soon after Knowles' triumphant return to Boston, another newspaper printed an exposé: Knowles had received help all along. He had spent time drinking beer at a lodge. And the bear skin he sported during many public appearances hosted bullet holes. Motavalli enriches the narration with historical context. But perhaps more important, Motavalli explores the enduring significance of the wilderness in American culture.
Da Capo Press, 2008, 352 p., $26.95