Docs writing fewer scripts
People are less likely to get antibiotics for respiratory infections
Since the mid-1990s, doctors have written fewer antibiotic prescriptions per year for respiratory infections, a new survey shows.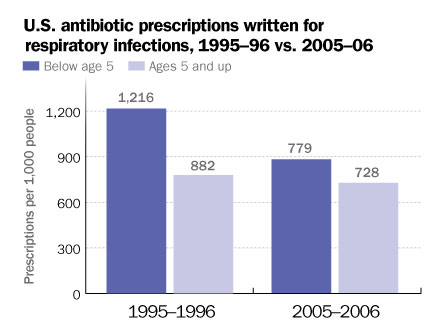 The drop in these prescriptions in the United States per thousand people from 1995 to 2006 is 36 percent in children under age 5 and 18 percent among persons age 5 and up, researchers report in the Aug. 19 Journal of the American Medical Association.
Many respiratory infections do not typically require antibiotics, including influenza, viral pneumonia, bronchitis, laryngitis, common colds and other infections caused by viruses. Infections more deserving of antibiotics include middle ear infections, sinus infections, tonsillitis and nonviral pneumonia.
Physician and epidemiologist Marie Griffin of Vanderbilt University Medical Center in Nashville, Tenn., and her colleagues pored over medical records from a nationwide database to ascertain the decline. Griffin says part of the drop might stem from the widespread implementation of vaccines against two bacteria — Haemophilus influenzae type B, which causes pneumonia, meningitis and other infections, and Streptococcus pneumoniae, which infects the lungs, ears and sinuses.
But the decline in prescriptions also shows that doctors are concerned about bacteria becoming resistant to antibiotics, Griffin says.