Glass bits, charcoal hint at 56-million-year-old space rock impact
Timing coincides with period of rapid warming perhaps sparked by comet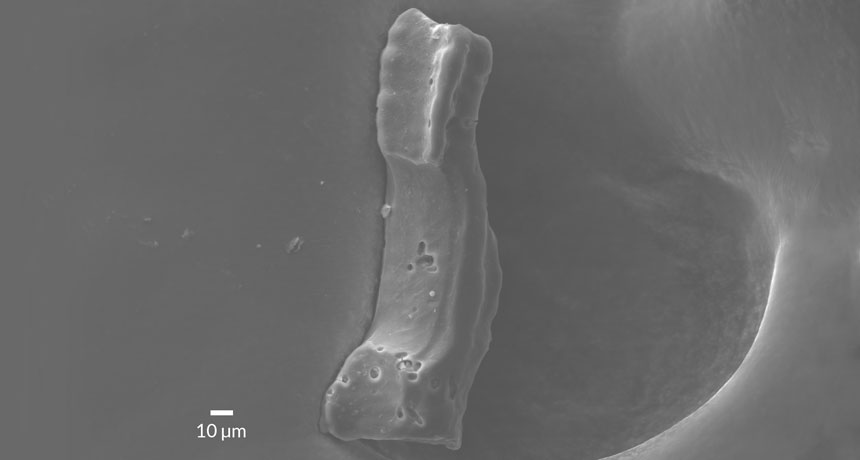 DENVER — A period of skyrocketing global temperatures started with a bang, new research suggests.
Impact debris and evidence of widespread wildfires around eastern North America suggest that a large space rock whacked Earth around 56 million years ago at the beginning of the Paleocene-Eocene Thermal Maximum, also known as the PETM, a period of rapid warming and huge increases in carbon dioxide. The event is one of the closest historic analogs to modern global warming and is used to improve predictions of how Earth's climate and ecosystems will fare in the coming decades.
Science News headlines, in your inbox
Headlines and summaries of the latest Science News articles, delivered to your email inbox every Thursday.
Thank you for signing up!
There was a problem signing you up.
Too little is known about the newfound impact to guess its origin, size or effect on the global climate, said geochemist Morgan Schaller of Rensselaer Polytechnic Institute in Troy, N.Y. But it fits in with the long-standing and controversial proposal that a comet impact caused the PETM. "The timing is nothing short of remarkable," said Schaller, who presented the discovery September 27 at the Geological Society of America's annual meeting.
The impact may have contributed to the rapid rise in CO2 by stirring carbon up into the atmosphere, but it was hardly the sole cause, said Sandra Kirtland Turner, a geochemist at the University of California, Riverside. Her own environmental simulations suggest that the influx of carbon that flooded Earth during the PETM probably took place over at least 2,500 years, far too drawn out to be caused by a single event, she said at the same meeting.
During the PETM, a massive influx of carbon flooded the atmosphere (SN: 5/30/15, p. 15) and Earth warmed by 5 to 8 degrees Celsius to temperatures much hotter than today. That carbon dump altered the relative abundance of different carbon isotopes in the atmosphere and oceans, leaving a signal in the sedimentary record.
While searching for that signal in roughly 56-million-year-old sediments from sites up and down the U.S. East Coast, Schaller spotted microscopic glassy spheres about the size of a dust mite. These specks resemble those blasted from previously identified large impact events. After switching from a black to a white sorting tray to more easily see the black debris, one of Schaller's Rensselaer colleagues, micropaleontologist Megan Fung, discovered abundant charcoal pieces in the mix. That charcoal formed when wildfires sparked by the impact raged across the landscape, she proposed.
Subscribe to Science News
Get great science journalism, from the most trusted source, delivered to your doorstep.
More evidence of the impact will help researchers to better constrain its location, scope and possible relationship to the start of the PETM, Schaller said.