In 2008, astronomers snapped what they claimed was the first actual picture of an exoplanet. The Hubble Space Telescope image showed a pinpoint of light orbiting a star called Fomalhaut approximately 25 light-years from Earth.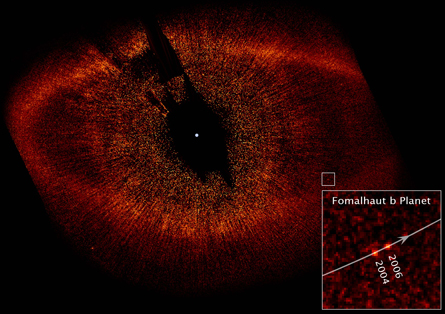 Now, a different team of scientists spying on the presumed planet, dubbed Fomalhaut b, with the Spitzer Space Telescope suggests that the bright dot in the original image isn't a planet at all. Though the team isn't sure what the dot is, the point of light doesn't appear to radiate at the infrared wavelengths where exoplanets should, a team led by Markus Janson of Princeton University reports in a paper posted online January 24 at arXiv.org.
Science News headlines, in your inbox
Headlines and summaries of the latest Science News articles, delivered to your email inbox every Thursday.
Thank you for signing up!
There was a problem signing you up.
This isn't the first time that Fomalhaut b has stumped astronomers. Ground-based infrared telescopes haven't been able to see it, and it's tracing an unexpected path around its star. Theories proposed to explain the imaged "planet" range from a background star to light scattered by a dust cloud.
But these results don't mean that Fomalhaut is a lonely star: It's circled by a dusty debris disk that bears an elliptical shape resembling the handiwork of a giant planetary shepherd — a planet that just hasn't been found yet. "The 'real' Fomalhaut b still hides in the system," the scientists conclude.