This newfound hermit crab finds shelter in corals, not shells
Symbiotic find is surprising as these corals already pal up with another critter: marine worms
A new species of hermit crab discovered in the shallow waters of southern Japan has been enjoying the perks of living like a peanut worm. Like the worms, the 7- to 8-millimeter-long hermit crab uses corals as a covering, researchers report September 20 in PLOS ONE.
Other kinds of hermit crabs live in coral reefs, but typically move in and out of a series of mollusk shells as the crabs grow. Diogenes heteropsammicola is the first hermit crab known to form a mutually beneficial relationship with two species of mobile corals called walking corals. Unlike more familiar coral species, these walking corals don't grow in colonies and aren't attached to the seafloor. Instead, each host coral grows with and around a crab, forming a cavity in the coral skeleton that provides a permanent home for the crustacean. In exchange, the crab helps the coral "walk."
Walking corals are already known to be in a symbiotic relationship with a different sea creature — flexible, marine peanut worms called sipunculids. A symbiotic shift between such distantly related species as the worms and the crab is rare because organisms in a mutualistic relationship tend to be specialized and completely dependent on one other, says study coauthor Momoko Igawa, an ecologist at Kyoto University in Japan.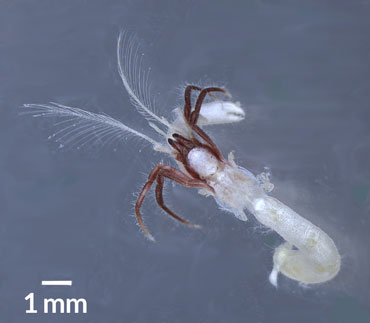 But similar to the worms,
D.
heteropsammicola
appears to be well-adapted to live in the corals. Its extra slim body can slip inside the corals' narrow cavity. And unlike other hermit crabs — whose tails curve to the right to fit into spiral shells —
D.
Subscribe to Science News
Get great science journalism, from the most trusted source, delivered to your doorstep.
heteropsammicola'
s tail is symmetrical and can curl either way, just like the corals' opening.
"Being able to walk around in something that is going to grow larger as you grow larger, that's a big plus," says Jan Pechenik, a biologist at Tufts University in Medford, Mass., who was not involved in the study. A typical hermit crab that can't find a larger shell to move into "really is in trouble."
D. heteropsammicola's relationship with walking corals may begin in a similar way as it does with sipunculan worms, Igawa says. A walking coral larva latches onto a tiny mollusk shell containing a juvenile hermit crab and starts to grow. When the hermit crab outgrows the shell, the crustacean moves into the readily available host coral's crevice, and the shell remains encapsulated in the coral.
By observing the hermit crab in an aquarium, Igawa and coauthor Makoto Kato, also an ecologist at Kyoto University, determined that the crab provides the corals with the same services as the worms: transportation and preventing the corals from being overturned by currents or buried in sediment.
Igawa hopes to search for this new hermit crab in Indonesia, a region where walking corals are normally found. Plus, because walking coral fossils are easy to come by in Japan, she also wants "to reveal the evolutionary history of the symbioses of walking corals [with] sipunculans and hermit crabs by observing these fossils."
---
Editor's note: This story was updated on September 21, 2017, to clarify the description of walking corals.