The nose knows how to fight staph
Bacterium found in nasal secretions may counter antibiotic-resistant infection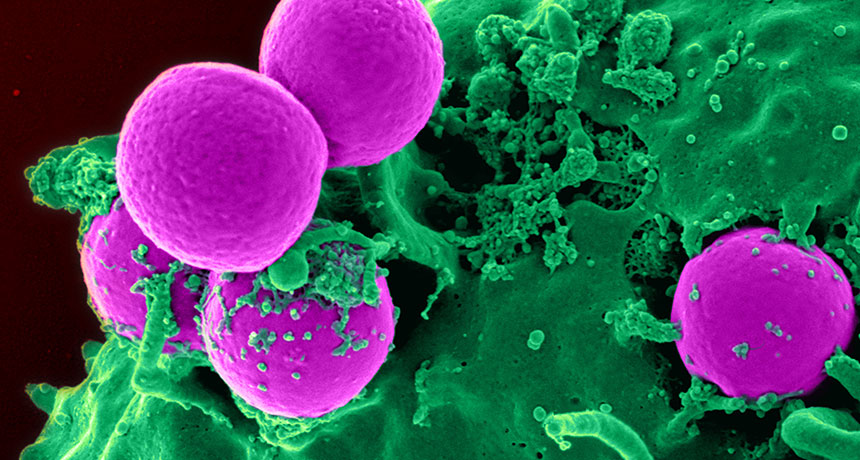 MANCHESTER, England — The human nose harbors not only a deadly enemy — Staphylococcus aureus — but also its natural foe. Scientists have now isolated a compound from that foe that might combat MRSA, the methicillin-resistant strain of S. aureus.
"We didn't expect to find this. We were just trying to understand the ecology of the nose to understand how S. aureus causes problems," bacteriologist Andreas Peschel of the University of Tübingen in Germany said at a news briefing July 26 during the EuroScience Open Forum. Investigating the intense interspecies competition in the nose — where microbes fight for space and access to scant sugars and amino acids — might offer a fertile alternative to searching for new drug candidates in soil microbes.
Antibiotic researcher Kim Lewis of Northeastern University in Boston agrees in general that the approach might produce new drug discovery leads. But so far the human microbiome has produced only a handful of potential new antibiotics (including lactocillin). If "the compound they found is membrane-acting, [it] will be useful for topical applications, but not as a systemic antibiotic," he wrote in an e-mail. And new systemic antibiotics are needed most, he says.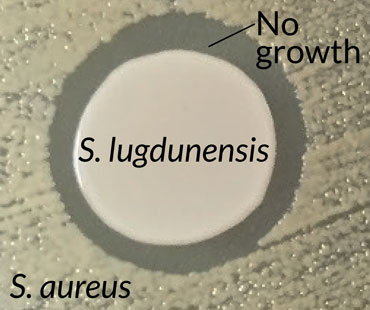 Despite being a relatively nutrient-poor environment, the human nose is home to more than 50 species of bacteria. One of these is S. aureus, a dominant cause of hospital-acquired infections such as MRSA, as well as infections of the blood and heart. But there's a huge variability in the nasal microbe scene between individuals: while S. aureus is present in the nasal passages of roughly 30 percent of people, the other 70 percent don't have any sign of it.
Trying to explain this difference led Peschel and colleagues to study "the ecology of the nose." They suspected that other nasal inhabitants, well-tuned to compete in that harsh niche, might be blocking S. aureus from colonizing the nose in those who don't carry it.
From nasal secretion samples, the team isolated 90 strains of different Staphylococcus species. Of these, one bacterium, S. lugdunensis, killed S. aureus when the two were grown together in a dish. Introducing a variety of mutations into S. lugdunensis produced a strain that didn't kill. The missing gene, the team showed, normally produced an antibiotic, which the researchers named lugdunin; it represents the first example of a new class of antibiotic.
Lugdunin was able to fend off MRSA as well as a strain of Enterococcus resistant to the antibiotic vancomycin. Neither bacteria developed resistance. The team also pitted S. lugdunensis against S. aureus in test tube and mouse studies, with S. lugdunensis besting S. aureus. Only 5.9 percent of 187 hospital patients had S. aureus in their noses if they also carried S. lugdunensis, the team found, while S. aureus was present in 34.7 percent of those without S. lugdunensis. Peschel and colleagues also reported the results July 28 in Nature.
Subscribe to Science News
Get great science journalism, from the most trusted source, delivered to your doorstep.
Lugdunin cleared up a staph skin infection in mice, but it's unclear how the compound works. Researchers could not rule out that it damages the cell membrane, which could limit its use in humans to a topical antibiotic. Peschel and coauthor Bernhard Krismer also suggest that the bacterium itself might be a good probiotic, applied nasally, to fend off staph infections in vulnerable hospital patients.