From the October 20, 1934, issue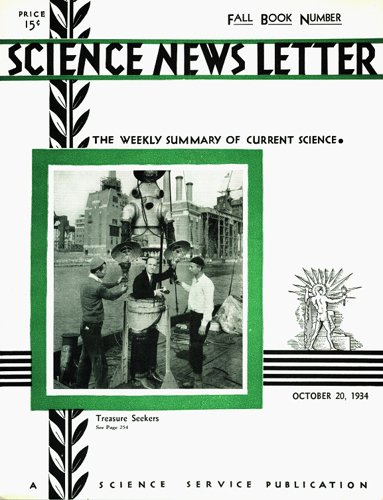 REVOLUTIONARY TREASURE TO BE SOUGHT IN NEW YORK
Pictured on the front cover of this week's Science News Letter is the latest diving equipment designed for a search for $4 million in gold in the East River near Hell Gate Bridge, New York City. The treasure is believed to be aboard the British frigate Hussar, which is reputed to have sunk en route to New York with pay for British Revolutionary troops.
Because of the inky blackness of the water in the river, special high-powered underwater lights are needed to provide illumination for the diver in his submarine work. Three of these lights, one above his head and one on each arm, use a total of 7,000 watts electrical energy.
Science News headlines, in your inbox
Headlines and summaries of the latest Science News articles, delivered to your email inbox every Thursday.
Thank you for signing up!
There was a problem signing you up.
From within the suit the diver operates the clawlike hands. The heavy armored unit does not move from the platform on which it is lowered beneath the water.
Latest reports indicate the treasure seeking is now a three-cornered controversy between Simon Lake, veteran submarine inventor, The Empire Marine Salvage and Engineering Corp., whose equipment is shown, and R.T. Powell, engineer and inventor.
Subscribe to Science News
Get great science journalism, from the most trusted source, delivered to your doorstep.
ENORMOUS CANYON DISCOVERED IN UNEXPLORED MEXICO
Verifying Indian tales that an enormous canyon resembling the Grand Canyon in size and grandeur exists in a practically unexplored part of Mexico, a zoological expedition, sent out from the zoological section of the California Institute of Technology, has rediscovered the Barranca del Cobre, a canyon described as one of the great natural wonders of the Earth.
The expedition, consisting of four Americans, led by Robert T. Moore, associate in vertebrate zoology of the institute, while making a zoological cross-section of extreme northern Sinaloa, penetrated to little-known portions of Chihuahua to reach the immense chasm.
A valuable collection of birds and mammals, some new to science, was obtained.
PHYSICS MAY SOON DISCOVER NEW GROUP OF ELEMENTS
Doctor Enrico Fermi, the Italian physicist whose experiments on bombarding heavy uranium with non-electrical particles known as neutrons has set the world of science in a controversy over whether or not super-heavy element No. 93 was created, has just performed similar experiments on the element thorium.
In an interview in London, while attending the International Conference on Physics, Dr. Fermi indicated that his preliminary experiments make him inclined to anticipate the discovery of a whole new radioactive family between the elements actinium and thorium.
Actinium has atomic number 89 in the periodic table of the elements. Its atoms weigh about 227 times as much as those of hydrogen. Thorium has atomic number 90. Its atoms are 232 times as heavy as hydrogen.
By his atom-bombarding experiments Dr. Fermi has discovered two radioactive substances of thorium having periods of 1 and 15 minutes during which they decay, or disintegrate to half their amount. These are the first two members of the new, anticipated radioactive family for which he is searching. They are probably isotopes of thorium or actinium, since there is no gap in the table of the elements at this point.