Energy Secretary Spencer Abraham has notified Nevada officials that he favors tunnels beneath Yucca Mountain in the southwestern part of the state as the nation's long-term depository for highly radioactive nuclear waste.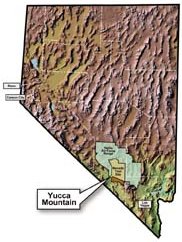 The secretary's notification to Governor Kenny Guinn and the Nevada legislature presages a formal recommendation to President Bush that could come as early as Feb. 10. It also intensifies the firestorm of controversy surrounding the project.
The Department of Energy began scouting possible locations for a nuclear depository in the 1960s and identified nine possible sites. Congress directed the agency in 1987 to restrict its evaluations to Yucca Mountain, which lies more than 160 kilometers northwest of Las Vegas.
The government's studies contend that the site's remote location, as well as its arid climate, makes the 300-meter-below-ground tunnels a safe depository.
The water table–the highest underground level at which rock or soil is saturated with water–is about 600 meters below ground at Yucca Mountain and is isolated from the aquifers that serve distant Las Vegas and nearby Pahrump, a community of about 32,000.
In a letter sent to the governor after the notification by phone, Abraham emphasized that his department's analyses show the site is "technically suitable" for storing spent nuclear fuel, excess plutonium from dismantled nuclear weapons, and other so-called high-level nuclear waste that's currently located at more than 131 sites in 39 states. He also cited the threat of terrorism and other "compelling national interests that require us to . . . move forward with the development of a repository."
The proposed Yucca Mountain depository sits on a large parcel of federal land that includes Nellis Air Force Base and the Nevada Test Site, where the United States has conducted more than 900 nuclear- weapon tests since 1951.
Although a remote underground repository for the nation's nuclear waste may provide protection against terrorism in the long run, critics of the Yucca Mountain project say that transporting the radioactive material to its final resting place would pose immediate risks to people and the environment.
Subscribe to Science News
Get great science journalism, from the most trusted source, delivered to your doorstep.
Tens of thousands of truck and train shipments would be required to transfer the waste, and each one would be a potential target for terrorists, says Kevin Kamps, a nuclear-waste specialist at the Nuclear Information and Resource Service in Washington, D.C.
Department of Energy studies show that nuclear waste would be transported through 45 states and some of it would pass within about 1 km of the homes, schools, and workplaces of 50 million U.S. residents, says Kamps. Those analyses also suggest that a severe radioactive spill in a rural area would contaminate more than 100 square kilometers and take about 15 months to clean up, at a cost of $620 million dollars.
If the train that derailed and caught fire in a 2-km tunnel under downtown Baltimore in July 2001 had been transporting nuclear waste as well as chemicals, the bill for cleanup could have run about $14 billion, Kamps says.
Nuclear-waste shipments amount to "radioactive Russian roulette on our roads and rails," he adds.
Scientists have long debated whether the Yucca Mountain site is geologically stable (SN: 10/9/99, p. 232) and recently argued about whether evidence of fluid movement through the rocks there reflects an ancient upwelling of brine or the ongoing percolation of rainwater down through the mountain (SN: 6/12/99, p. 374). Abraham's announcement likely won't quell those scientific disputes and may propel the nuclear-waste hot potato into the hands of the nation's judiciary.
Guinn says in a statement posted on the Nevada State Web site, "I told [Abraham] that I am damn disappointed in this decision. . . . At the conclusion of the call, I told the Secretary that I think this decision stinks, the whole process stinks and we'll see him in court."
---