Restless sleep associated with heart rhythm problems
Study links insomnia, other shut-eye problems to atrial fibrillation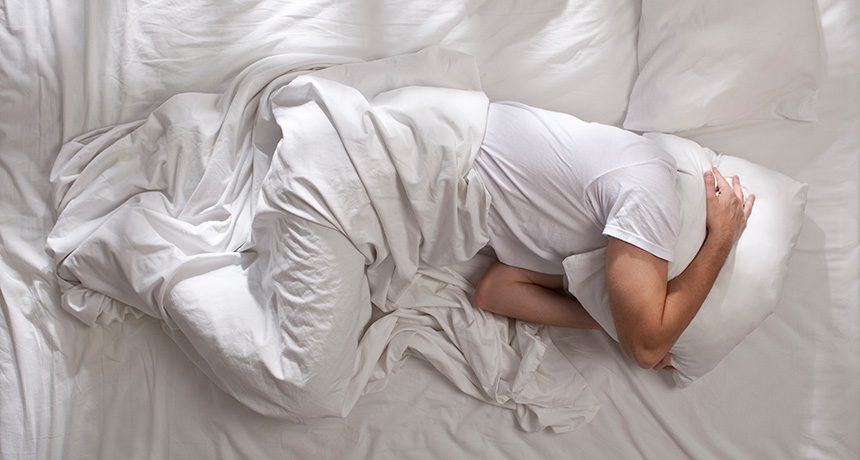 NEW ORLEANS — Chronic sleep problems are associated with atrial fibrillation — a temporary but dangerous disruption of heart rhythm — even among people who don't suffer from sleep apnea. An analysis of almost 14 million patient records has found that people suffering from insomnia, frequent waking and other sleep issues are more likely than sound sleepers to experience a condition in which the upper chambers of the heart quiver instead of rhythmically beating, allowing blood to briefly stagnate.
"Even if you don't have sleep apnea, is there something about sleep disruption that puts you at a higher risk of fibrillation," said Gregory Marcus, a cardiologist at the University of California, San Francisco. "We should put a higher priority on studying sleep itself." Marcus and Matthew Christensen, from the University of Michigan, presented their results November 14 at the annual meeting of the American Heart Association.
Science News headlines, in your inbox
Headlines and summaries of the latest Science News articles, delivered to your email inbox every Thursday.
Thank you for signing up!
There was a problem signing you up.
People with atrial fibrillation have double the risk of having a heart attack, and up to five times the risk of stroke. Although the heart condition can be a consequence of aging, its prevalence is rising at about 4 percent per year for reasons that aren't totally explained. In the United States, about 5 million people currently have the condition, and that number is expected to rise to 12 million by 2030.
A large body of studies has found that sleep apnea, which occurs when a person stops breathing during the night, can lead to atrial fibrillation and a host of other health concerns. Identifying a risk of atrial fibrillation among people with no sleep apnea is unexpected, says Richard Becker, director of the University of Cincinnati Heart, Lung & Vascular Institute, who was not part of the study.
Marcus, Christensen and colleagues analyzed data from three different sources, including the California Healthcare Cost and Utilization Project, a database of almost 14 million patients. They also drew on records from more than 4,600 participants of Health eHeart Study who had filled out a sleep survey, and from the Cardiovascular Health Study, which has tracked more than 5,700 people for more than a decade. Those data allowed the researchers to follow patients over time, tracking which came first — the fibrillation or the sleep issues. The researchers included a variety of sleep disorders, such as insomnia, nighttime waking and shortened periods of rapid eye movement, or REM, sleep.
Among the results: People who frequently woke had a 33 percent greater chance of developing atrial fibrillation in one analysis, and a 47 percent higher chance in another. For the eHeart group, insomnia increased the odds by 17 percent. And among more than 14 million California records studied, insomnia increased the odds of future atrial fibrillation by 36 percent. Analysis of a subgroup undergoing sleep studies showed that less REM sleep also was associated with a higher probability of developing atrial fibrillation.
Subscribe to Science News
Get great science journalism, from the most trusted source, delivered to your doorstep.
The study can't explain why a lack of sleep even with normal breathing might hurt the heart, but the authors hypothesize that the mechanism could be tied to the body's stress response.
Becker believes that cardiologists should emphasize sleep just as they do diet and exercise for lifestyle management. To workaholic, screen-fixated Americans, "this study sends a powerful message about wellness as a continuum throughout the day and night," he says. "It offers clinicians and the public a 360-degree view of what is important for good health."