Salt trial provokes DASH of skepticism
A major new federal trial renews support for salt restriction and a healthy diet as ways of lowering blood pressure, even among people without hypertension.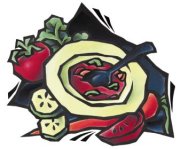 Roughly one-quarter of U.S. adults have hypertension, defined as a blood pressure higher than about 140/90 millimeters of mercury (mm Hg). Very elevated blood pressure places people at higher-than-average risk of heart attack and stroke.
The new study finds that cutting salt intake "could help many Americans prevent the blood pressure rises that now occur with advancing age," says Claude Lenfant, director of the National Heart, Lung, and Blood Institute (NHLBI) in Bethesda, Md. The new data indicate that even people without hypertension could benefit, he notes.
Such comments are provoking criticism, however, from several hypertension researchers. While crediting the trial data as interesting and strong, these critics argue that the study's authors and NHLBI are suggesting benefits beyond what the data can support.
The new work, reported last week in New York City at the American Society of Hypertension meeting, follows up on an earlier Dietary Approaches to Stop Hypertension (DASH) trial. That 1997 study found that switching from the typical U.S. diet to a less meaty cuisine rich in fruits, vegetables, fiber, and low-fat dairy products offered big benefits. The DASH diet lowered systolic blood pressure (the upper number) by an average of 5.5 mm Hg. Among participants with hypertension, blood pressure reductions were almost twice as large.
Prepared by dieticians, all meals in the original DASH trial contained the same amount of salt, notes Laura P. Svetkey, director of the Duke University Hypertension Center in Durham, N.C., and an author of that study's report. In the 3-month DASH-Sodium feeding trial, she and her colleagues have now probed the effect of salt.
They assigned 200 men and women to a typical U.S. diet and an equal number to the DASH diet. Every 4 weeks, they altered each group's daily sodium intake—from 3,000 milligrams, which is somewhat less than most people eat today, to 2,400 mg, the current U.S. guideline, down to 1,500 mg.
On the typical diet, switching from high salt consumption to low triggered a substantial drop, 6.7 mm Hg, in systolic pressure. People on the high-salt DASH diet showed similar declines from their blood pressures at the start of the study. Combining the DASH diet and low salt intake brought an additional 3 mm Hg drop, with participants ending up 8.9 mm Hg lower than those on a high-fat, high-salt diet.
Subscribe to Science News
Get great science journalism, from the most trusted source, delivered to your doorstep.
People who had mild hypertension at the start of the trial again experienced the biggest benefit—a systolic pressure drop of 11.5 mm Hg. This is about the size of reduction one looks to get from drugs, notes Eva Obarzanek of NHLBI.
These data don't show how the blood pressure reductions will affect heart-attack rates. In fact, a provocative study in the Jan. 15 Lancet indicated there may be a threshold below which blood pressure reductions become moot.
Reanalyzing data from the long-running Framingham (Mass.) Heart Study showed no decreased heart risk for drops in blood pressure below the 70th or 80th percentile in any given age or sex. This argues that "much of the worry about blood pressure—especially the 'lower the better'—is false," says analysis leader Sidney Port of the University of California, Los Angeles. "The effect of salt on blood pressure may be just irrelevant."
Michael H. Alderman of the Albert Einstein College of Medicine in New York expressed "disappointment" that the new study reported blood pressure changes only. Previous studies, he says, have shown that salt restriction can also trigger changes in insulin, nerve activity, and other factors that may lead to the vascular damage that underlies heart attacks.
Moreover, he points out, the way a person reduces blood pressure can affect the heart benefit. He points to NHLBI's ongoing ALLHAT study, a trial comparing effects of blood pressure-lowering drugs in 42,500 patients. In March, NHLBI announced it would cease testing doxazosin. Although it lowered blood pressure as well as the other drugs, it was not protecting patients as well from heart attack and congestive heart failure.
David A. McCarron of the Oregon Health Sciences University in Portland has concerns about DASH-Sodium's "nonrepresentative population." "Overrepresented" subgroups in the trial, such as black women, tend to be especially salt sensitive, he says. In contrast, the data "show that if you went on a DASH diet, were not hypertensive, were under 45, and a Caucasian, reducing sodium had essentially no effect on blood pressure," he concludes.
Not true, Obarzanek counters. "It appears that everyone is sodium sensitive," she argues, "because in every group we looked at, reducing sodium lowered blood pressure."