Salty source of Ceres' mysterious bright spots found
Ammonia from farther out in solar system hints at dwarf planet's origins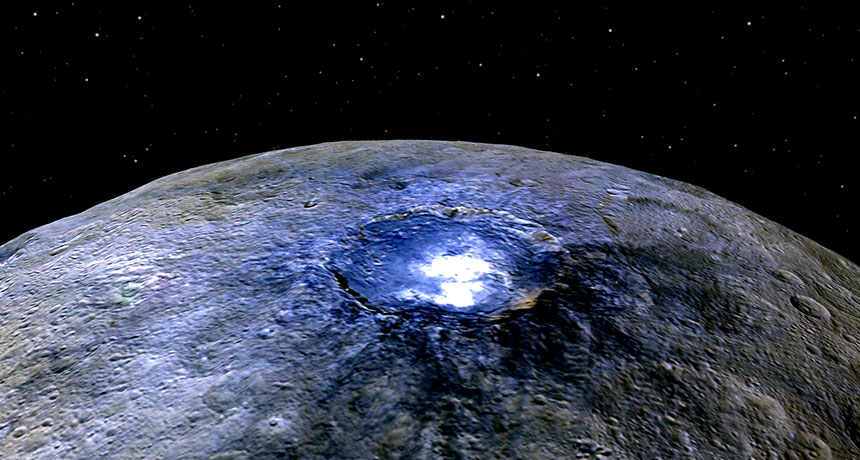 Bright patches of salt on the dwarf planet Ceres hint at a subsurface layer of briny water ice. Ammonia-laden minerals also suggest that Ceres was at least partially assembled from material hauled in from the outskirts of the solar system, researchers report online December 9 in two papers in Nature.
Reflective spots on Ceres have been one of the enduring mysteries of the Dawn mission (SN Online: 9/10/15), which arrived at the dwarf planet March 6 (SN: 4/4/15, p. 9). During its visit, the spacecraft has cataloged more than 130 bright blemishes on Ceres' surface. Image analysis now indicates that hydrated magnesium sulfates, a type of salt, blanket the brightest patches. Haze also appears over those same patches every morning (local time), probably from sublimation of dusty, briny water ice exposed by impacts with space rocks, Dawn scientists suggest.
While there is no evidence of water ice on the surface, spectra from Dawn show that the landscape is coated in ammoniated phyllosilicates. These minerals form in the presence of ammonia ice. In its current home in the asteroid belt, Ceres is now too close to the sun to freeze ammonia. But early in its life, Ceres might have grabbed ice-rich material drifting in from the outer solar system (SN: 5/16/15, p. 18), the researchers suggest. Or Ceres might even have formed near the orbit of Neptune and subsequently wandered in after some nudging by the giant planets.