Swapping analogous genes no problem among species
Yeast survives with bacteria, plant, human versions of shared genetic material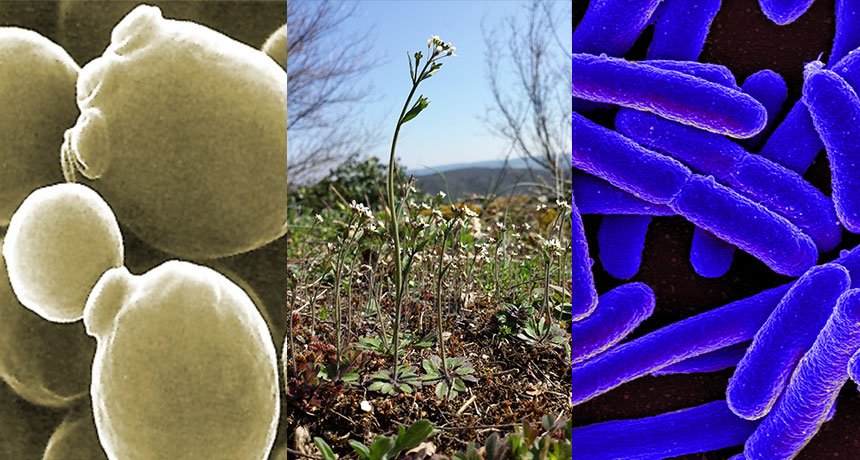 ORLANDO, Fla. — Organisms as different as plants, bacteria, yeast and humans could hold genetic swap meets and come away with fully functional genes, new research suggests.
Researchers have known for decades that organisms on all parts of the evolutionary tree have many of the same genes. "How many of these shared genes are truly functionally the same thing?" wondered Aashiq Kachroo, a geneticist at the University of Texas at Austin, and colleagues. The answer, Kachroo revealed July 15 at the Allied Genetics Conference, is that about half of shared genes are interchangeable across species.
Last year, Kachroo and colleagues reported that human genes could substitute for 47 percent of yeast genes that the two species have in common (SN: 6/27/15, p. 5). Now, in unpublished experiments, the researchers have swapped yeast genes with analogous ones from Escherichia coli bacteria or with those from the plant Arabidopsis thaliana. About 60 percent of E. coli genes could stand in for their yeast counterparts, Kachroo reported. Plant swaps are ongoing, but the researchers already have evidence that plant genes can substitute for yeast genes involved in some important biological processes.
In particular, many organisms share the eight-step biochemical chain reaction that makes the molecule heme. The researchers found that all but one of yeast's heme-producing genes could be swapped with one from E. coli or plants.