Teen e-cig users more likely to smoke tobacco
Electronic delivery of nicotine raises rate that high school students turn to combustible products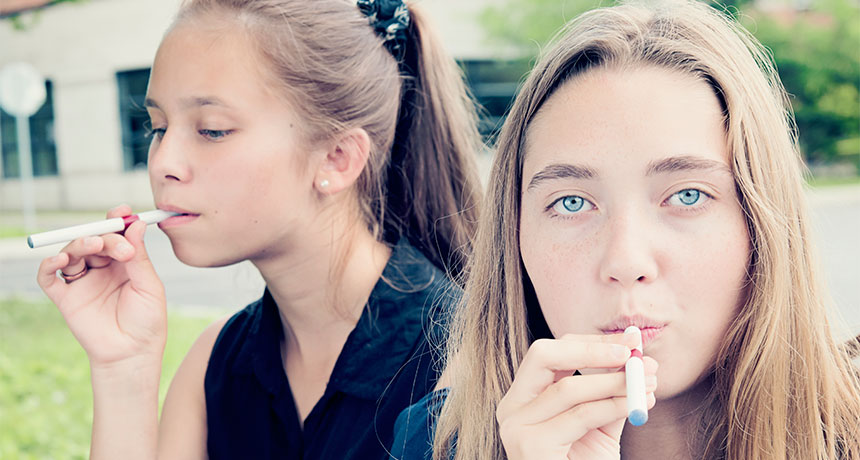 E-cigarettes may tempt kids into trying tobacco.
Teens who use e-cigarettes are more likely to start smoking cigarettes, cigars and other tobacco products than teens who don't use e-cigarettes, researchers report in the Aug. 18 JAMA. The study is the first to draw a link between e-cigarette use and later experimentation with tobacco.
"The question of whether e-cigarette use promotes cigarette smoking has now been answered — and the answer is yes," says tobacco control researcher Stanton Glantz of the University of California, San Francisco.
Science News headlines, in your inbox
Headlines and summaries of the latest Science News articles, delivered to your email inbox every Thursday.
Thank you for signing up!
There was a problem signing you up.
Unlike tobacco products, e-cigarettes can be advertised on TV and radio in the United States, and — in some states — e-cig makers can even sell their wares to minors. E-cigarettes don't contain tobacco, but they usually do deliver hits of nicotine and other chemicals (SN: 6/28/14, p. 9), and can come in kid-friendly flavors like cotton candy and banana pudding (SN online: 5/18/15).
The number of teens who have tried e-cigarettes more than doubled between 2011 and 2012. Last year, Glantz and UC San Francisco colleague Lauren Dutra reported that e-cigarette users are more likely than nonusers to smoke tobacco.
Subscribe to Science News
Get great science journalism, from the most trusted source, delivered to your doorstep.
But because that study didn't follow e-cigarette users over time, the authors couldn't say whether or not e-cigarette use led people to try tobacco. "We got yelled at because we suggested that e-cigarettes were promoting smoking," Glantz says.
Some scientists have argued that e-cigarettes actually prevent smoking by giving teens a tobacco-free product to choose, says addiction scientist Adam Leventhal of the University of Southern California in Los Angeles.
Leventhal and colleagues asked 2,530 nonsmoking ninth-graders from 10 Los Angeles public high schools about their background, family history and habits. Of those students, 222 had used, or vaped, e-cigarettes. The team repeated the survey after six months, and again after a year. Compared with kids who didn't use e-cigarettes at the beginning of ninth grade, those who did were about three times as likely to start smoking tobacco products during the year.
The idea that e-cigarettes steer teens away from tobacco just doesn't fit, Leventhal says. "We actually found the opposite."
The findings "blow away one of the head-in-the-sand arguments that a lot of the e-cigarette advocates have been making," Glantz says.
Leventhal plans to continue following the study's participants to find out if teens who use e-cigarettes are more likely than nonusers not just to experiment with tobacco but also to become hooked on it.
Editor's Note: This story was updated August 25, 2015, to clarify the results of Glantz's 2014 study and to note his coauthor.