U.S. childhood obesity rate continues to rise
Few states buck trend
Nearly one-third of children age 10 to 17 in the United States were overweight as of 2007, and roughly half those kids qualified as obese, a new survey shows. Obesity rates rose in 36 states since the last sampling in 2003, according to data that will appear in the July issue of Archives of Pediatrics & Adolescent Medicine. Mississippi had the highest obesity rate in this age group at nearly 22 percent in 2007; Oregon had the lowest at 9.6 percent.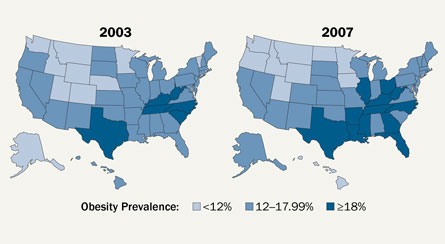 Two states that had ranked on the skinny side in 2003, Nevada and Colorado, saw their percentages of obese and overweight kids rise sharply by 2007. South Carolina, on the other hand, saw its childhood obesity rate drop from 19 percent to 15 percent.
States where children spend a lot of "recreational screen time" in front of TVs and computers tend to have high rates of childhood obesity, says study coauthor Gopal Singh, an epidemiologist at the U.S. Health Resources and Services Administration in Rockville, Md. "And these states tend to do poorly in some neighborhood factors associated with reduced obesity such as access to playgrounds, parks, sidewalks and recreational centers," he says.
The survey data were gleaned from more than 40,000 telephone interviews done each year with randomly selected households.