When tumors fuse with blood vessels, clumps of breast cancer cells can spread
Tests with fake vessels suggest this is an early step in metastasis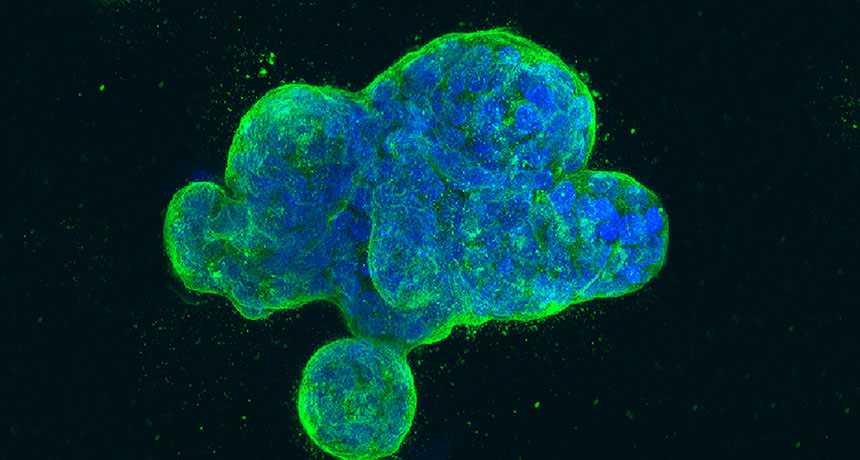 PHILADELPHIA — If you want to beat them, join them. Some breast cancer tumors may follow that strategy to spread through the body.
Breast cancer tumors can fuse with blood vessel cells, allowing clumps of cancer cells to break away from the main tumor and ride the bloodstream to other locations in the body, suggests preliminary research. Cell biologist Vanesa Silvestri of Johns Hopkins University School of Medicine presented the early work December 4 at the American Society for Cell Biology/European Molecular Biology Organization meeting.
Previous research has shown that cancer cells traveling in clusters have a better chance of spreading than loners do (SN: 1/10/15, p. 9). But how clusters of cells get into the bloodstream in the first place has been a mystery, in part because scientists couldn't easily see inside tumors to find out.
So Silvestri and colleagues devised a see-through synthetic version of a blood vessel. The vessel ran through a transparent gel studded with tiny breast cancer tumors. A camera attached to a microscope allowed the researchers to record the tumors invading the artificial blood vessel. Sometimes the tumors pinched the blood vessel, eventually sealing it off. But in at least one case, a small tumor merged with the cells lining the faux blood vessel. Then tiny clumps of cancer cells broke away from the tumor and floated away in the fluid flowing through the capillary. More work is needed to confirm that the same process happens in the body, Silvestri said.