The wiring for walking developed long before fish left the sea
Neural circuitry for walking may have evolved in ancient fish as early as 420 million years ago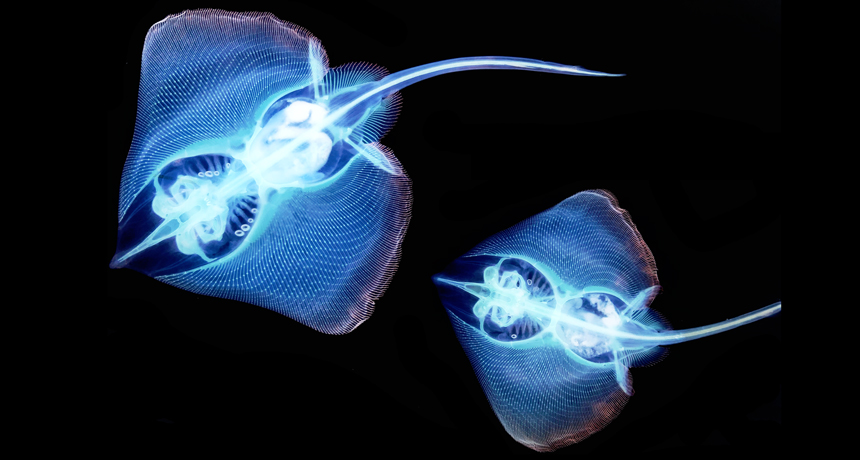 These fins were made for walking, and that's just what these fish do — thanks to wiring that evolved long before vertebrates set foot on land.
Little skates use two footlike fins on their undersides to move along the ocean floor. With an alternating left-right stride powered by muscles flexing and extending, the movement of these fish looks a lot like that of many land-based animals.
Now, genetic tests show why: Little skates and land vertebrates share the same genetic blueprint for development of the nerve cells needed for limb movement, researchers report online February 8 in Cell. This work is the first to look at the origins of the neural circuitry needed for walking, the authors say.
Science News headlines, in your inbox
Headlines and summaries of the latest Science News articles, delivered to your email inbox every Thursday.
Thank you for signing up!
There was a problem signing you up.
"This is fantastically interesting natural history," says Ted Daeschler, a vertebrate paleontologist at the Academy of Natural Sciences in Philadelphia.
"Neurons essential for us to walk originated in ancient fish species," says Jeremy Dasen, a neuroscientist at New York University. Based on fossil records, Dasen's team estimates that the common ancestor of all land vertebrates and skates lived around 420 million years ago — perhaps tens of millions of years before vertebrates moved onto land (SN: 1/14/12, p. 12).
Subscribe to Science News
Get great science journalism, from the most trusted source, delivered to your doorstep.
Little skates (Leucoraja erinacea) belong to an evolutionarily primitive group. Skates haven't changed much since their ancestors split from the fish that evolved into land-rovers, so finding the same neural circuitry in skates and land vertebrates was surprising.
The path to discovery started when Dasen and coauthor Heekyung Jung, now at Stanford University, saw YouTube videos of the little skates walking.
"I was completely flabbergasted," Dasen says. "I knew some species of fish could walk, but I didn't know about these."
Most fish swim by undulating their bodies and tails, but little skates have a spine that remains relatively straight. Instead, little skates move by flapping pancake-shaped pectoral fins and walking on "feet," two fins tucked along the pelvis.
Measurements of the little skates' movements found that they were "strikingly similar" to bipedal walking, says Jung, who did the work while at NYU. To investigate how that similarity arose, the researchers looked to motor nerve cells, which are responsible for controlling muscles. Each kind of movement requires different kinds of motor nerve cells, Dasen says.
The building of that neural circuitry is controlled in part by Hox genes, which help set the body plan, where limbs and muscles and nerves should go. For instance, snakes and other animals that have lost some Hox genes have bodies that move in the slinky, slithery undulations that many fish use to swim underwater.
By comparing Hox genes in L. erinacea and mice, researchers discovered that both have Hox6/7 and Hox10 genes and that these genes have similar roles in both. Hox6/7 is important for the development of the neural circuitry used to move the skates' pectoral fins and the mice's front legs; Hox10 plays the same role for the footlike fins in little skates and hind limbs in mice. Other genes and neural circuitry for motor control were also conserved, or unchanged, between little skates and mice. The findings suggest that both skates and mice share a common ancestor with similar genetics for locomotion.
The takeaway is that "vertebrates are all very similar to each other," says Daeschler. "Evolution works by tinkering. We're all using what we inherited — a tinkered version of circuitry that began 400-plus million years ago."
FISHY BUSINESS Strange, footlike fins on the bellies of these little skates are an outward sign of a shared genetic blueprint for locomotion.