A Sweeter Hops
Federal scientists have bred a new, antimicrobial-rich hops variety for tea
Brewers prize hops for the characteristic bitter flavors they impart to ales, lagers, and other beers. But aficionados of another class of brews—certain herbal teas—would prefer their hops bitterfree. And federal scientists may have come up with just what the doctor ordered.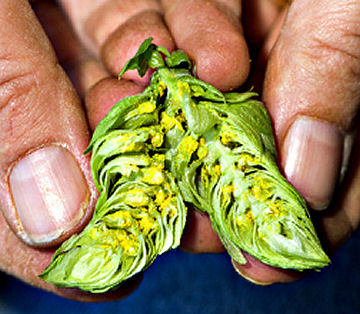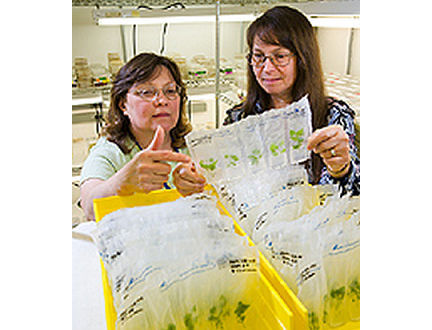 "People have used hops medicinally for a long time. It's a fairly ancient remedy," notes plant physiologist Barbara M. Reed with the U.S. Department of Agriculture, in Corvallis, Ore.
The bitter tonic made from hops has putative sedative, hypnotic, and antianxiety properties. Hops tea has been offered as a folk remedy for conditions ranging from fever and insomnia to bruises and cancer, according to a report by botanist James A. Duke, who has authored several books on medicinal plants. A quick browse on the Internet will turn up numerous sources of hop tea.
The new cultivar, named Teamaker, may produce an especially palatable brew owing to a unique ratio of certain acid components. Moreover, the components that predominate in Teamaker have long-established antimicrobial properties. Indeed, their germ-fighting function appears to have won the appreciation of brewers more than a millennium ago, notes John A. Henning, who leads hop genetics and breeding at a USDA research center, also in Corvallis. Beer producers realized that when their recipe included hops, brews not only proved tasty, but had a longer shelf life.
Hops breeder Alfred Haunold and his colleagues at the Corvallis center will formally register their debittered cultivar this month.
What brewers of all stripes refer to as hops are actually the cone-shaped dried female flowers of the Humulus lupulus L. plant. Inside are glands that contain flavorful oils and some fairly bitter water-soluble components.
To extract the flavorings for use in beer, or merely to make a cup of tea, brewers boil the cones to release their characteristic flavorings. However, the altered chemistry of USDA's new hop has dramatically boosted the production of flavorings possessing natural, antibiotic properties.
In fact, the elevated antibiotic attributes of the new hop might open new markets for this crop, observes Henning. For instance, sugar producers might turn to it as a preservative to prevent microbial degradation of their product during processing. Alternatively, he notes, manufacturers and others may substitute it for the formaldehyde used to control pests and fungal growth in everything from animal feed and plywood to tissues that are being stored for use in research.
Alpha vs. beta
The key flavor compounds in hops trace to two families of chemicals: water-soluble alpha acids, and beta acids that develop in the plants' essential oils. Breweries prize the alpha acids for their hearty, if bitter, taste: These serve as a natural foil to the sweet compounds that develop in many beers. Indeed, some brewers just buy isolated hop-derived alpha acids and dispense with the beta acids entirely.
The new Teamaker hop derives from experiments several decades ago when Haunold wanted to see the extent to which he could preferentially maximize a plant's production of alpha or beta acids. One successful beta-rich cultivar proved virtually devoid of alpha acids. A technician who tasted it jokingly said the bitterfree product would be great for tea—eventually giving rise to its name.
In the January Journal of Plant Registrations, Henning, Haunold, and their coauthors describe Teamaker's pedigree—at least as much as is known. Most of its initial ancestors appear to have come from old English lines, such as cultivars known as Fuggle and Late Grape. However, Henning points out, because these lines are rich in alpha acids, there must have also been beta-rich ancestors. He now suspects that these were probably wild U.S. hops that pollinated their English cousins growing openly in Oregon fields, early in the last century.
Currently, U.S. farmers produce some 55 million pounds of hops annually. Since the big market for hops has always been beer, the alpha acids-shy Teamaker languished in a few test plots for decades. A beer company or two checked the variety out, but ultimately exhibited no commercial interest.
Recently, however, interest in beta acids—and their antimicrobial prowess—has been growing, independent of hops' use in beer. For instance, European sugar refiners have begun buying beta-acid extracts—essentially leftovers from alpha-acid production for breweries—as a bitterfree, all-natural preservative for use during manufacturing. At the same time, some feed suppliers have begun substituting beta acids for low-dose antibiotics as a livestock growth-promoting dietary additive. Feed producers couldn't use conventional hops directly, Henning notes, because the alpha acids' bitter taste would have soured the animals' interest in their chow.
However, with Teamaker, the hop is essentially alpha acids-free: It certainly has the lowest quantity of alpha acids of any commercially available hop.
Teamaker is available to breeders through the National Clonal Germplasm Repository—essentially a federal library with holdings that include more than 510 different hops. Some are wild natives collected throughout the United States. Others are cultivated varieties collected from throughout the world.
But if the idea of bitterfree hops appeals, Henning says, stay tuned. In a year or two his group expects to announce a new and improved variety. Think of it, he says, as bitter-Terminator 2.
---
If you would like to comment on this Food for Thought, please see the blog version.