Six-month-old babies know words for common things, but struggle with similar nouns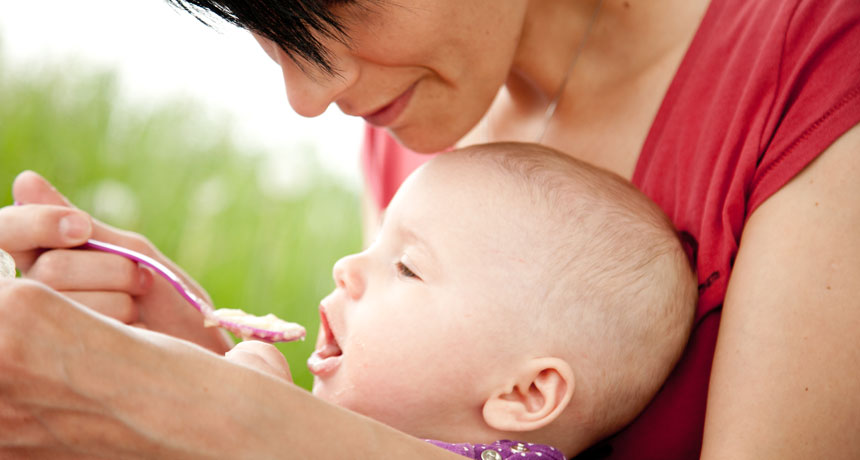 Around the six-month mark, babies start to get really fun. They're not walking or talking, but they are probably babbling, grabbing and gumming, and teaching us about their likes and dislikes. I remember this as the time when my girls' personalities really started making themselves known, which, really, is one of the best parts of raising a kid. After months of staring at those beautiful, bald heads, you start to get a glimpse of what's going on inside them.
When it comes to learning language, it turns out that a lot has already happened inside those baby domes by age 6 months. A new study finds that babies this age understand quite a bit about words — in particular, the relationships between nouns.
Work in toddlers, and even adults, reveals that people can struggle with word meanings under difficult circumstances. We might briefly falter with "shoe" when an image of a shoe is shown next to a boot, for instance, but not when the shoe appears next to a hat. But researchers wanted to know how early these sorts of word relationships form.
Psychologists Elika Bergelson of Duke University and Richard Aslin, formerly of the University of Rochester in New York and now at Haskins Laboratories in New Haven, Conn., put 51 6-month-olds to a similar test. Outfitted with eye-tracking gear, the babies sat on a parent's lap and looked at a video screen that showed pairs of common objects. Sometimes the images were closely related: mouth and nose, for instance, or bottle and spoon. Other pairs were unrelated: blanket and dog, or juice and car.
When both objects were on the screen, the parents would say a sentence using one of the words: "Where is the nose?" for instance. If babies spent more time looking at the nose than the other object, researchers inferred that the babies had a good handle on that word.
When the babies were shown tricky pairs of closely related objects, like a cup of juice and a cup of milk, the babies spent nearly equal time looking at both pictures, no matter what word their parents said. But when the images were really distinct (juice and car, for instance) the babies spent more time looking at the spoken word.
These babies detected a difference between the "milk-juice" pair and the "juice-car" pair, recognizing that one pair is similar and the other isn't, the researchers conclude November 20 in the Proceedings of the National Academy of Sciences.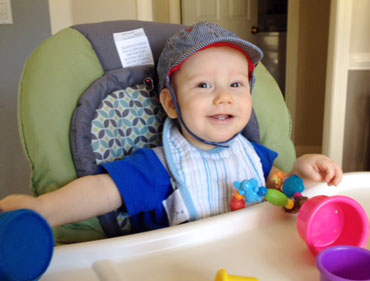 To see whether this ability was tied to domestic life, the researchers sent the babies home with specialized gear: vests with audio recorders and adorable hats outfitted with small video cameras, one just above each ear. A camera on a tripod in a corner of the home also captured snippets of daily life. The resulting video and audio recordings revealed that babies whose caregivers used more nouns for objects in the room were better at the word task in the lab.

That means that babies learn words well when they can actually see the object being talked about. Hearing, "Open your mouth. Here comes the spoon!" as they watch the spoon come flying toward their face makes a bigger vocabulary impression than "Did you like riding in the car yesterday?"
A similar idea came from a recent study on preschoolers. These kids learned best when they saw one picture at a time (or when parents pointed at the relevant object). Babies — and older kids, too — like to see what you're talking about.
The results are too early to provide advice to parents, says Bergelson, a cognitive and developmental psychologist. "But I think one thing suggested by our work is that parents should consider their young baby to be a real conversational partner," she says. "Even young infants are listening and learning about words and the world around them before they start talking themselves, and their caregivers make that possible."
There's still lots to figure out about how babies soak up vocabulary. And as scientists come up with more ways to peer into the mysterious inner workings of a baby's mind, those answers might lead to even more interesting conversations with our babies.