For kids, daily juice probably won't pack on the pounds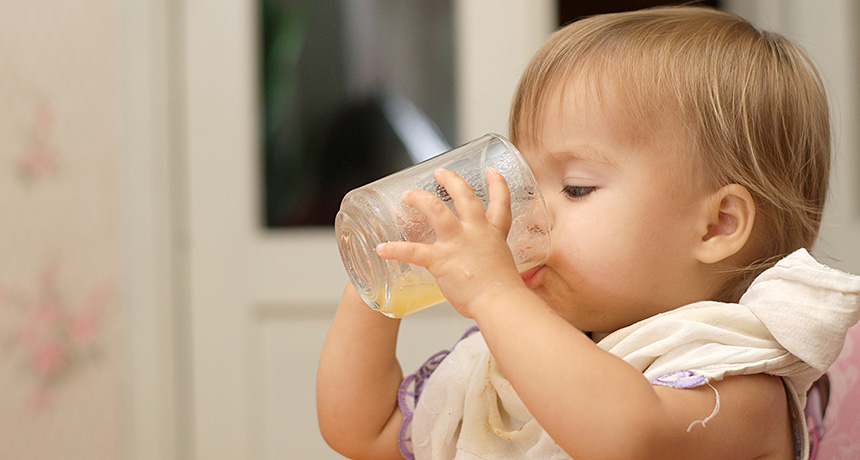 I've been to the playground enough times to know a juicy parenting controversy when I see (or overhear) one. Bed-sharing, breastfeeding and screen time are always hot-button issues. But I'm not talking about any of those. No, I'm talking about actual juice.
Some parents see juice as a delicious way to get vitamins into little kids. Others see juice as a gateway drug to a sugar-crusted, sedentary lifestyle, wrapped up in a kid-friendly box. No matter where you fall on the juice spectrum, you can be sure there are parents to either side of you. (Disclosure: My kids don't drink much juice, simply because the people who buy their groceries aren't all that into it. And juice is heavy.)
Scientific studies on the effects of juice have been somewhat sparse, allowing deeply held juice opinions to run free. One of the chief charges against juice is that it's packed with sugar. An 8-ounce serving of grape juice, even with no sugar added, weighs in at 36 grams. That tops Coca-Cola, which delivers 26 grams of sugar in 8 ounces. And all of those extra sweet calories can lead to extra weight.
A recent review of eight studies on juice and children's body weight, published online March 23 in Pediatrics, takes a look at this weight concern. It attempts to clarify whether kids who drink 100 percent fruit juice every day are at greater risk of gaining weight. After sifting through the studies' data, researchers arrived at an answer that will please pro-juicers: Not really.
"Our study did not find evidence that consuming one serving per day of 100 percent fruit juice influenced BMI to a clinically important degree," says study coauthor Brandon Auerbach of the University of Washington in Seattle.
The analysis found that for children ages 1 to 6, one daily serving of juice (6 to 8 ounces) was associated with a sliver of an increase in body mass index, or BMI. Consider a 5-year-old girl who started out right on the 50th percentile for weight and BMI. After a year of daily juice, this girl's BMI may have moved from the 50th to the 52nd or 54th percentile, corresponding to a weight increase of 0.18 to 0.33 pounds over the year. That amount "isn't trivial, but it's not enough on its own to lead to poor health," Auerbach says.
The results, of course, aren't the final word. The analysis was reviewing data from other studies, and those studies came with their own limitations. For one thing, the studies didn't assign children to receive or not receive juice. Instead, researchers measured the children's juice-drinking behavior that was already under way and tried to relate that to their weight. That approach means that it's possible that differences other than juice consumption could influence the results.
It's important to note the distinction here between the 100 percent fruit juice in the studies and fruit cocktails, which are fruit-flavored drinks that often come with lots of added sugar. The data on those drinks is more damning in terms of weight gain and the risk of cavities, Auerbach says.
Also worth noting: The American Academy of Pediatrics recommends that kids between ages 1 and 6 get only 4 to 6 ounces of juice a day. That's a smaller amount than many of the kids in the studies received. And the AAP recommends babies younger than 6 months get no juice at all.
In general, whole fruits, such as apples and oranges, are better than juice because they provide fiber and other nutrients absent from juice. (Bonus for toddlers: Oranges are fun to peel. Bummer for parents: Doing so makes a sticky mess.)
Still, the new analysis may ease some guilt around letting the juice flow. And it can enable parents to save their worries for more harmful things, of which there are plenty.