Protect little ones' eyes from the sun during the eclipse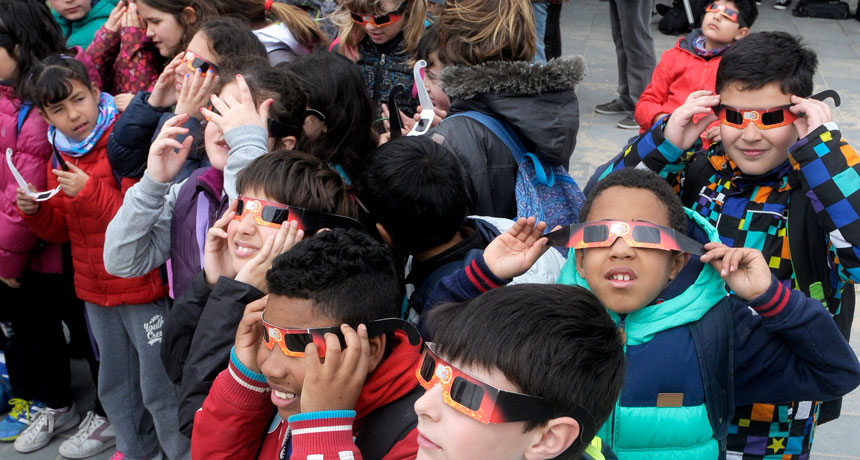 As luck (or exceptionally precise astronomical modeling) would have it, my new, small Oregon town happens to lie in the upcoming eclipse's path of totality. For nearly two glorious minutes on August 21, we will look up and see the unworldly sight of the moon completely blocking the sun.
To put it mildly, Oregon is going bonkers. Local radio is warning of gas shortages and apocalyptic traffic. Schools and businesses are closing. Emergency services are ramping up for the expected onslaught. Every local store has a pile of eclipse glasses near the register, yours for a very reasonable $2. (Oregonians don't price gouge.)
I bought glasses (the good kind) for my family and put them in a high drawer. But as a parent to a 2-year-old, I realize that my eclipse prep can't stop there. I've seen what the girl does to regular sunglasses, so I've got a few ideas to preschooler-proof these eclipse glasses for her.
Except for during the brief window of totality (when the sun's surface is completely blacked-out), you shouldn't look directly at the sun during an eclipse without wearing proper, eclipse-specific eyewear. The powerful light can cause extensive, sometimes permanent eye damage, a condition called solar retinopathy.
As you may imagine, it might be hard to impress this risk on children. Take the cases of these three Australian kids. After watching the 2012 partial eclipse of the sun through binoculars, a 10-year-old boy hurt his eyes. Examinations three months after the injury revealed persistent damage. Another boy, this one 8 years old, stared at the same partial eclipse directly. His eyes showed signs of harm five months later. And an 11-year-old girl who peeked at the 2012 transit of Venus with only her right eye also suffered persistent eye damage.
Those cautionary examples, described in 2015 in the Journal of the American Association for Pediatric Ophthalmology and Strabismus, made me want to duct tape my children's eclipse glasses to their heads, mummy-style.
Subscribe to Science News
Get great science journalism, from the most trusted source, delivered to your doorstep.
In lieu of that, I'm opting for super thick and stretchy fabric bands that I'll staple and tape to the arms of the glasses. I'm also experimenting with a headband to limit movement on the top of the head, and perhaps even a paper plate taped around the front of the glasses to block incidental light. You could even take a note from 1963 schoolchildren, who put big boxes over their heads to see a projection of an eclipse.
I was happy to see that my DIY ideas aren't totally off: Amid its wealth of eclipse information, the American Astronomical Society recommends modifying eclipse glasses with elastic or tape around the back so they sit firmly on small faces.
Of course, if you have a little Houdini who regularly squirms out of constricting clothes, you may consider any tweaking to be too risky. A simple pinhole projector, which doesn't require looking anywhere near the sun, might be better.
Clearly, eye protection is something to take seriously. But don't let that worry keep you and your children from seeing this once-in-a-lifetime celestial event. It's the type of natural phenomenon that people — especially really young ones — can grab onto and understand. After all, kids love shadows, and this is going to be one heck of a shadow.