Telling children they're smart could tempt them to cheat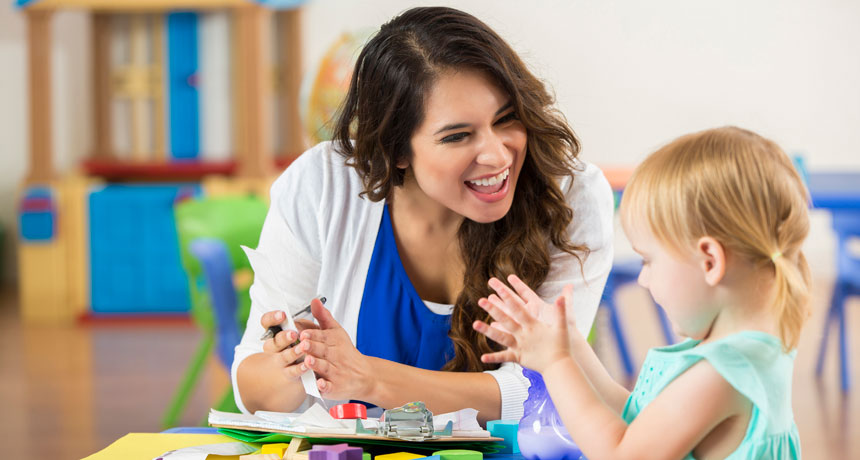 It's hard not to compliment kids on certain things. When my little girls fancy themselves up in tutus, which is every single time we leave the house, people tell them how pretty they are. I know these folks' intentions are good, but an abundance of compliments on clothes and looks sends messages I'd rather my girls didn't absorb at ages 2 and 4. Or ever, for that matter.
Our words, often spoken casually and without much thought, can have a big influence on little kids' views of themselves and their behaviors. That's very clear from two new studies on children who were praised for being smart.
Science News headlines, in your inbox
Headlines and summaries of the latest Science News articles, delivered to your email inbox every Thursday.
Thank you for signing up!
There was a problem signing you up.
The studies, conducted in China on children ages 3 and 5, suggest that directly telling kids they're smart, or that other people think they're intelligent, makes them more likely to cheat to win a game.
In the first study, published September 12 in Psychological Science, 150 3-year-olds and 150 5-year-olds played a card guessing game. An experimenter hid a card behind a barrier and the children had to guess whether the card's number was greater or less than six. In some early rounds of the game, a researcher told some of the children, "You are so smart." Others were told, "You did very well this time." Still others weren't praised at all.
Just before the kids guessed the final card in the game, the experimenter left the room, but not before reminding the children not to peek. A video camera monitored the kids as they sat alone.
The children who had been praised for being smart were more likely to peek, either by walking around or leaning over the barrier, than the children in the other two groups, the researchers found. Among 3-year-olds who had been praised for their ability ("You did very well this time.") or not praised at all, about 40 percent cheated. But the share of cheaters jumped to about 60 percent among the 3-year-olds who had been praised as smart. Similar, but slightly lower, numbers were seen for the 5-year-olds.
Subscribe to Science News
Get great science journalism, from the most trusted source, delivered to your doorstep.
In another paper, published July 12 in Developmental Science, the same group of researchers tested whether having a reputation for smarts would have an effect on cheating. At the beginning of a similar card game played with 3- and 5-year-old Chinese children, researchers told some of the kids that they had a reputation for being smart. Other kids were told they had a reputation for cleanliness, while a third group was told nothing about their reputation. The same phenomenon emerged: Kids told they had a reputation for smarts were more likely than the other children to peek at the cards.
The kids who cheated probably felt more pressure to live up to their smart reputation, and that pressure may promote winning at any cost, says study coauthor Gail Heyman. She's a psychologist at the University of California, San Diego and a visiting professor at Zhejiang Normal University in Jinhua, China. Other issues might be at play, too, she says, "such as giving children a feeling of superiority that gives them a sense that they are above the rules."
Previous research has suggested that praising kids for their smarts can backfire in a different way: It might sap their motivation and performance.
Heyman was surprised to see that children as young as 3 shifted their behavior based on the researchers' comments. "I didn't think it was worth testing children this age, who have such a vague understanding of what it means to be smart," she says. But even in these young children, words seemed to have a powerful effect.
The results, and other similar work, suggest that parents might want to curb the impulse to tell their children how smart they are. Instead, Heyman suggests, keep praise specific: "You did a nice job on the project," or "I like the solution you came up with." Likewise, comments that focus on the process are good choices: "How did you figure that out?" and "Isn't it fun to struggle with a hard problem like that?"
It's unrealistic to expect parents — and everyone else who comes into contact with children — to always come up with the "right" compliment. But I do think it's worth paying attention to the way we talk with our kids, and what we want them to learn about themselves. These studies have been a good reminder for me that comments made to my kids — by anyone — matter, perhaps more than I know.