Honeybees are still plagued by that mysterious colony collapse disorder. With a shortage of these European immigrants foraging — and pollinating — throughout the North American landscape, biologists have been emphasizing how important it is to nurture our native pollinators. These include bumblebees, hummingbirds, bats, moths, and more. But because so many pollinators are fairly finicky about what they eat, gardeners and other landscape managers may need help identifying what plants will make their horticultural helpers happy.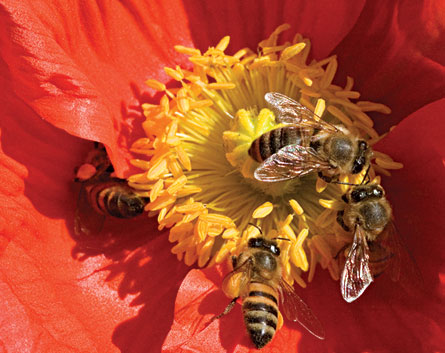 When Laurie Davies Adams testifies before Congress tomorrow, this executive director of the San Francisco-based Pollinator Partnership will formally announce the creation of ecosystem-specific planting brochures to offer just such guidance. Six are already available, just in time for this, the second National Pollinator Week. Every month, another two 24-page manuals will be completed and posted online. By the end of next year, all 35 should be available for downloading free.
You don't have to know which guide to use. Merely enter your zipcode, Adams explains, and the name of the appropriate guide — developed with help from the U.S. Geological Survey — will pop up.
Science News headlines, in your inbox
Headlines and summaries of the latest Science News articles, delivered to your email inbox every Thursday.
Thank you for signing up!
There was a problem signing you up.
Each is tailored to the specific ecological and climatic constraints of a region, she says, and describes how to build a welcoming habitat for bees, their buddies, "and the many animals that depend on pollinators." Whether you're a farmer, rancher, home gardener, or park manager, "you'll have access to plant lists, bloom periods, and all of the other information you need."
She says gardeners can choose plants based primarily on what grows well in their regions — but aren't invasive — or on the basis of what pollinator they wish to entice with their blooms. The lists focus on plants expected to be generally available. "We're hopeful people will let us know if they can't find a plant [that's suggested]," Adams says. "That way we can work with some plant providers and make sure that the right plants start becoming available."
"We're excited," Adams says, "because this is a new way for people to look at their neighborhood." Instead of through the filter of its political boundaries, it's designated in terms of its ecological zone.
"Frankly, pollinators have a real estate problem, just like the rest of us," Adams says. But with some pollinators foraging a couple miles per day, a single gardener's plantings can have a fairly broad influence throughout a whole connected ecosystem. "Our message," she says, is for people to realize "that individuals can make a difference."
Subscribe to Science News
Get great science journalism, from the most trusted source, delivered to your doorstep.
As an inveterate gardener, you can bet I jumped to her group's website — only to learn that the guide for my ecoregion, the southeastern mixed forest province, isn't ready yet. Those that are: the central Appalachian broadleaf forest (including West Virginia and parts of Tennessee), Chihuahuan desert (covering parts of Arizona, New Mexico and Texas), eastern broadleaf forest continental (which includes my hometown, outside Chicago), eastern broadleaf forest oceanic (think New England), outer coastal (from Delaware to Louisiana), and prairie parkland (from Oklahoma through the upper Midwest).
If your locale isn't on the list either, don't despair, Adams says. Just email her group your zipcode and they'll alert you as soon as it does become available.