Froggie Needs a Name – and Help
This rare Ecuadoran frog comes from an unusual family. The eggs of these species don't release tadpoles, but instead fully metamorphosed baby froglets. And you can name this particular species – for a price. The name you choose will be formally published in a research journal. The winner will also receive the opportunity to tour a major amphibian research laboratory. But if you're interested, act quickly. The auction ends May 31, and as of this morning had reached $4,000.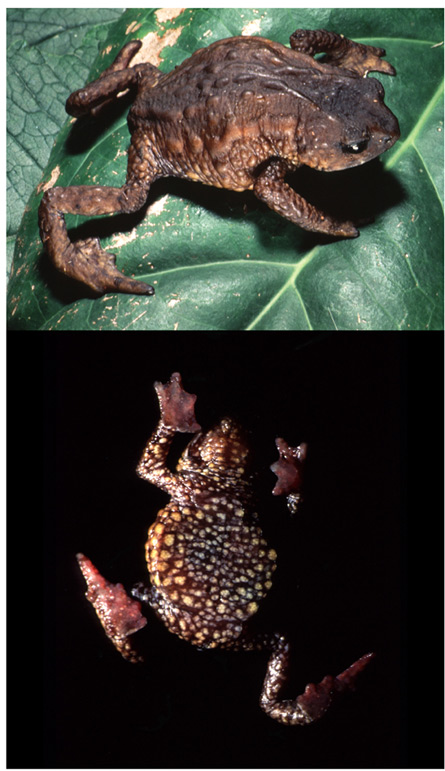 Selling naming rights to species appears to be an increasingly popular fund-raising activity. The latest group to join the fray is Amphibian Ark, a joint collaboration of the World Association of Zoos and Aquariums and two IUCN/SSC Specialist Groups. As the sellers' names suggest, these aren't biologists looking to make a quick buck. Indeed, AmphibianArk pledges that every penny raised in a naming auction will go to fund research on imperiled amphibians (and that means the auction price is 100 percent tax deductable).
To help raise awareness about the plight of frogs and toads, which are disappearing globally, AmphibianArk decided to name 2008 the "Year of the Frog." But recognition alone won't save the critters. Research into their life history and into what's threatening their survival is essential. And, for those species unable to withstand the vicissitudes of their home range, collection from the wild for captive rearing may be their only hope of surviving into the next century. Which is why AmphibianArk is holding naming auctions – one a month for five months, starting this month.
The group has identified some 500 amphibian species desperately in need of help. It estimates that funding research on them – and rearing operations where appropriate – will require at least $40 million. Obviously, gleaning even $100,000 per frog-naming auction is only a drop in the bucket. However, the organization hopes the unusual venture will capture the attention of those with really fat wallets.