Naming Your Tax Write-Off
As April 15 looms, U.S. taxpayers are looking for every last deduction that might keep money out of Uncle Sam's pockets and in theirs—or the pockets of groups they value. A front-page story in yesterday's San DiegoUnion-Tribune points to one that might appeal to marine biologists or persons who wish they were.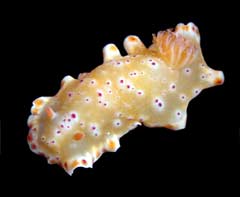 In return for your sending a tax deductible contribution to the Scripps Institution of Oceanography, this La Jolla, Calif.-based group will give you the honor of naming a newly discovered sea creature.
There's a caveat, of course. It must be a sizable contribution.
Science News headlines, in your inbox
Headlines and summaries of the latest Science News articles, delivered to your email inbox every Thursday.
Thank you for signing up!
There was a problem signing you up.
You don't need to be a Rockefeller or member of the Microsoft board, but you'll have to earn more than the average post-doc. The minimum naming-rights contribution is $5,000. But the qualifying investment for putting the moniker on a new hydrothermal vent worm is 50 grand. Want to lend your name or that of a loved one to a worm that digests bones? It'll cost you $25,000. Or potentially even more, because that's only the starting bid: You always risk getting into a bidding war.
Don't worry, the money won't go for parties. This fund-raiser is designed to help subsidize Scripps Oceanographic Collections, which is a museum of sorts whose holdings consist of sea life and bits of the environment—including rocks and sediment—in which they're found. Scripps describes the holdings as "irreplaceable because they record the state of the ocean environment at specific points in time," thereby offering information on the present and past states of the world oceans.
"By supporting the collections through species naming, donors have an opportunity for their name, or the name of a person they love or respect, to be immortalized forever," said Greg Rouse, curator of the Scripps' collection of seafloor invertebrates. He says that "This type of unique gift highlights the vast unknown diversity in the sea that Scripps scientists are working to document and describe."
Where the genus name exists, you get to name the species. Where even the genus is new, you can name each—but you'll have to pay a la carte.
Scripps guarantees the creature you name will be novel—so the name will last forever, even if the species doesn't (i.e. it goes extinct).
As pricey as these deductions appear, they're actually quite modest for a piece of biological immortality. Jenifer Goodwin's story in the Union-Tribune noted that Monaco's OceanographicMuseum sold off naming rights for a new shark species, last year, for a cool half-mill. And it reported a casino paid even more in 2005 for the rights to name a newly discovered South American monkey.
Fortunately, my tax bite isn't so large that I need huge deductions. But if it were, I'd be partial to Scripps' gorgeous orange, speckled nudibranch. The starting bid on naming this sea slug: $15,000.