Will polar bear protection mean ever-higher energy costs? That was the verbatim tease that the American Enterprise Institute offered in an email inviting me to a panel discussion yesterday afternoon. Only it turned out to be a clear case of bait-and-switch.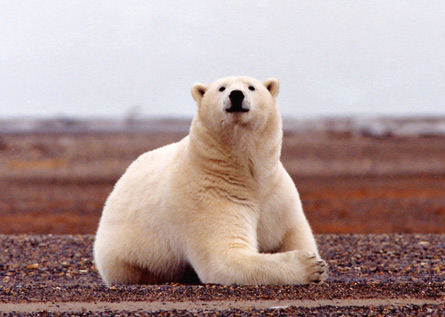 The panelists – Jonathan Adler of Case Western Reserve School of Law and Bryan Arroyo, who directs the endangered-species program at the U.S. Fish and Wildlife Service – made only fleeting reference to the subject of costs. No numbers were offered. So I pointedly asked (during the Q&A) what the financial fallout might be from listing the bear under the Endangered Species Act, or ESA, last month. Both speakers artfully ducked the question, basically conceding they didn't know.
That doesn't mean the event was a bust. I did learn where fights will likely break out in the next few months to years between industry, environmental advocates, and the feds as regulations are developed, and litigated, over how to conserve declining numbers of charismatic Arctic megafauna – most notably, our polar bears.
Science News headlines, in your inbox
Headlines and summaries of the latest Science News articles, delivered to your email inbox every Thursday.
Thank you for signing up!
There was a problem signing you up.
Yesterday's forum was hosted by a conservative think tank. Adler is one of their darlings. The AEI moderator and Adler both acknowledged that the federal government had no choice but to list polar bears, last month, as threatened with extinction, based on the best available science. Adler argued, however, that the "best available science" wasn't very good and that listing the bears under ESA "won't help polar bears much in the wild."
Why wouldn't offering protection for bears that are declining in number, and whose habitat (Arctic sea ice) is rapidly disappearing, be a good thing? If I understood Adler correctly, he argued that climate was not going to reverse itself because we listed the bear, so the species' populations might disappear anyway. Yet drilling for oil in the Alaskan Arctic could be severely restricted, under the law – needlessly.
In fact, Adler found the polar bear's listing as pointless, albeit required by law. The problem, he charged, is that the law is flawed. Likening ESA to a pit bull, he said it's short "and has a hell of a lot of teeth." Moreover, he added, "like a pit bull, once it's unleashed, it's hard to control." It can even "force actions that are not in the interest of species protection."
For instance?
Subscribe to Science News
Get great science journalism, from the most trusted source, delivered to your doorstep.
Well, Adler's example (which he referred to several times) is that sport hunters who legally kill polar bears in Canada would not be allowed to bring their trophy carcasses because of U.S. prohibitions on the importation of any animals (or parts of animals) listed under ESA. That would be bad, he implied, because Canada collects some bear-conservation funds from sport hunters. The species might therefore suffer from reduced conservation budgets normally financed at least in part by killing the species. Maybe I'm missing something here, but that hardly sounds like a compelling argument not to offer bears federal protection under ESA.
Perhaps the most pivotal issue triggered by the bear's listing, both speakers said, will be how to interpret and enforce Section 7 of the law. Without wading into too much detail, it requires that once a species is listed under ESA, all government agencies that authorize, regulate, or manage activities that might affect the species (or its critical habitat) must consult with Arroyo's office to receive a ruling on whether those activities might harm the species. If they would, those activities are prohibited.
Adler argued that this offers any organization that wants to stall activities (which would principally be oil exploration and drilling) a means to challenge them. The critic simply has to claim Section 7 consultations were needed and not carried out or that they had been conducted but that the rulings by Arroyo's office were inappropriate.
Concluded Adler: "The reality is that he (Arroyo) is going to get . . . a lot of litigation. And a lot of projects will be delayed." At the same time, he predicted, the numbers of consultations that must take place will skyrocket as agencies consider issues such as whether to grant oil and gas leases in the Arctic or whether to permit an incidental killing of a polar bear by ships and others working in the Arctic. And this, Adler maintains, will divert F&WS funds from saving animals to defending agency decisions that become the subject of lawsuits.
Arroyo's responded to Adler's assessments of likely repercussions of the polar bear's ESA listing by saying "I don't think we disagree on a whole lot."