See a 360-degree visualization of the center of the Milky Way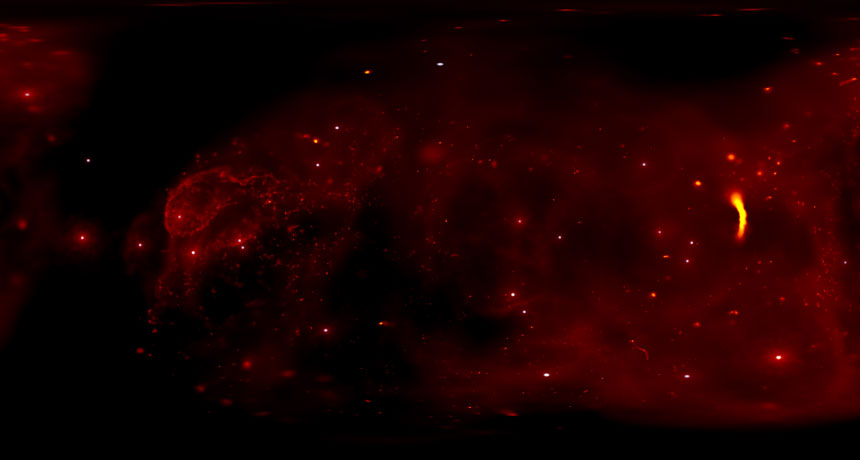 OXON HILL, Md. — Ever wonder what it would be like to sit at the center of the Milky Way and watch the galaxy swirl by? A video debuted in a January 10 news conference at the American Astronomical Society Meeting provides a glimpse.
The 360-degree-simulation, made with data from several telescopes, including NASA's Chandra X-ray Observatory and the European Southern Observatory's Very Large Telescope, puts viewers at Sagittarius A*, the supermassive black hole that lurks in the galaxy's center.
The video depicts about 25 stars (shown in white) that churn through the galaxy's center over about 500 years. The stars, known as Wolf-Rayet stars, emit winds of gas, shown in red.  As blobs of gas near the supermassive black hole, they are stretched and deformed by the intense gravity — before finally being captured inside.
It's quite a view — but one you'd never want to experience in real life: The Milky Way's supermassive black hole has about 4 million times the mass of the sun. Since nothing can escape from inside a black hole, you'd never be able to share what you saw — even if you survived the crushing weight of the behemoth's gravity.
GALAXY GANDER This 360-degree video gives a simulated view of the environment at the middle of the Milky Way, surrounding the galaxy's supermassive black hole. Stars (white) orbit the black hole, emitting blobs of gas (red). C. Russell et al./Pontifical Catholic Univ. of Chile, CXC/NASA