Penguin supercolony discovered in Antarctica
It was the guano that gave the birds away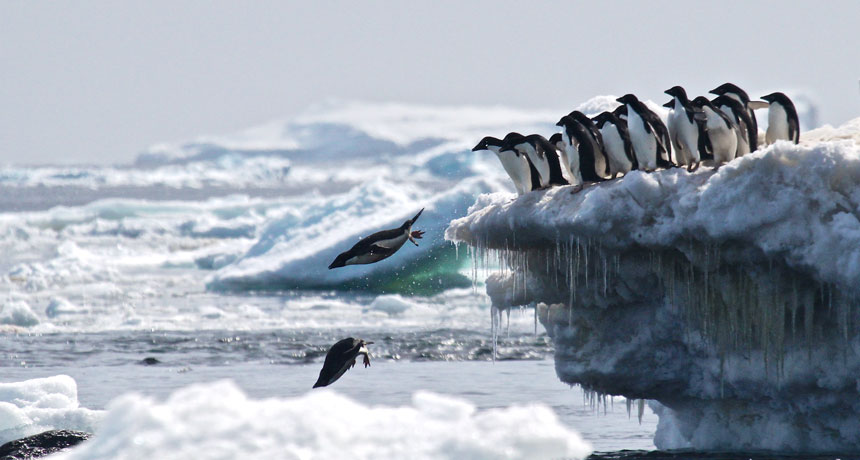 On an expedition to an icy island chain off the Antarctic Peninsula's northern tip, researchers discovered a massive supercolony of more than 1.5 million Adélie penguins, according to a study published March 2 in Scientific Reports.
Scientists had known of an Adélie penguin colony (Pygoscelis adeliae) in these Danger Islands, but satellite images revealed more guano on the rocky islands than could be explained by the colony's expected numbers.
Even though the tiny island chain is only about 10 kilometers across, researchers hadn't realized the extent of the penguin population, says study coauthor Heather Lynch, an ecologist at Stony Brook University in New York. "In the Antarctic, distances are so vast, something major could be just around the corner and you wouldn't know."
The researchers did a preliminary head count, took drone images and collected mud cores during a 2015 expedition. The team then spent about a year using a computer algorithm to analyze the images to more fully count 751,527 penguin nests, Lynch says. For every nesting bird, the scientists assumed there was a partner penguin out at sea.
EVERY PENGUIN COUNTS Researchers did a preliminary head count of Adélie penguins in the newly discovered supercolony, and then spent about a year analyzing drone footage such as this to get a better count of penguins nesting in the area.
Next, the team hopes to analyze the guano content in the collected layers of mud to discover how long the penguins have been nesting in the Danger Islands.
Subscribe to Science News
Get great science journalism, from the most trusted source, delivered to your doorstep.
The discovery is good news for fans of the flightless bird. Elsewhere in Antarctica where the climate is more volatile, penguin colonies are in decline. "I hope this provides impetus for a marine protected area in the Danger Islands with expanded borders from what has been proposed," Lynch says.