This week in Zika: An anniversary, how the virus kills brain cells and more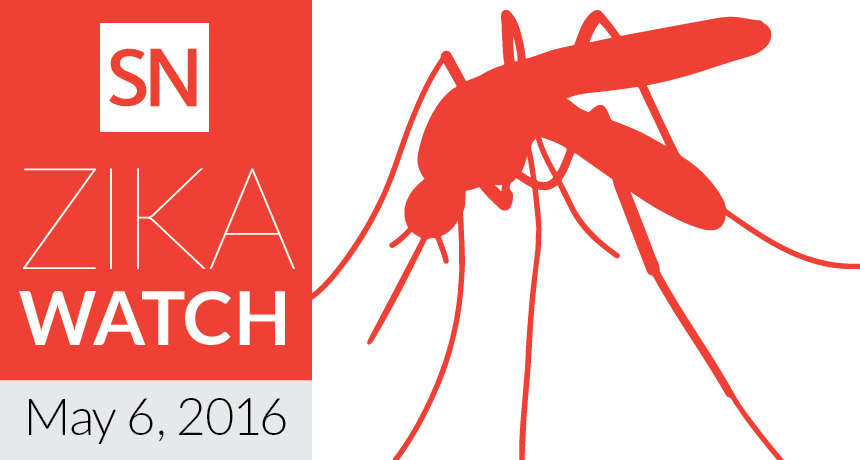 One year ago, Brazil reported the first laboratory-confirmed cases of Zika.
The virus had cropped up elsewhere in a few earlier outbreaks, too, but it didn't seem all that threatening at the time. Zika symptoms were generally pretty mild — or even nonexistent, the Pan American Health Organization and the World Health Organization reported in an epidemiological alert May 7, 2015. The alert made no mention of pregnant women, babies or microcephaly. In fact, it noted: "Complications (neurological, autoimmune) are rare."
What a difference a year makes.
Now scientists have convincingly tied Zika infection to birth defects, and suspect it's behind an uptick in neurological disorders in adults, too. But researchers are still figuring out how the virus acts, and how to stop it. A vaccine is in the works, but could take years.
So Zika-fighting tactics have gotten creative. A new billboard in Brazil lures mosquitoes in with spritzes of humanlike scent, and then traps them inside a chamber to die. (It kills hundreds of mosquitoes a day, the billboard's makers tout, but scientists have yet to weigh in.) Researchers have recently explored other methods to rein in Zika. This and more from recent research:
The best weapon against Zika may be a mosquito-infecting bacteria. Mosquitoes harboring Wolbachia pipientis resisted infection from two strains of Zika virus circulating in Brazil, researchers report May 4 in Cell Host & Microbe. And if Wolbachia-carrying mosquitoes do get infected, they're less likely to transmit the virus. Releasing these mosquitoes in the wild could help halt Zika's spread. 
An antimalarial drug called chloroquine could also work against Zika. When added to human brain cells and mouse minibrains in the lab, the drug helped prevent Zika infection. It also kept minibrains looking somewhat healthy, researchers report May 2 at bioRxiv.org. Chloroquine is a promising candidate for clinical trials, the authors write, because it's safe for use in pregnant women.
UC San Diego Health

Zika kills brain cells by cranking up production of a protein that triggers cellular self-destruction, researchers report May 6 in Cell Stem Cell. Scientists knew that infection with the virus could kill cells, shrinking minibrains grown in the lab, but until now, they didn't understand how. The protein, an immune molecule called TLR3, could act as a target for therapies.
A new paper-based Zika test could offer doctors a quick and easy way to detect the virus. The test senses Zika RNA and can differentiate between African and American strains, scientists report May 6 in Cell. Though still in the proof-of-concept stage, the test was able to confirm Zika's presence in samples from an infected macaque. The news comes on the heels of the FDA's recent approval of a commercial test for Zika.