2014 was Earth's warmest year on record
Record marks the 38th consecutive year of temperatures above average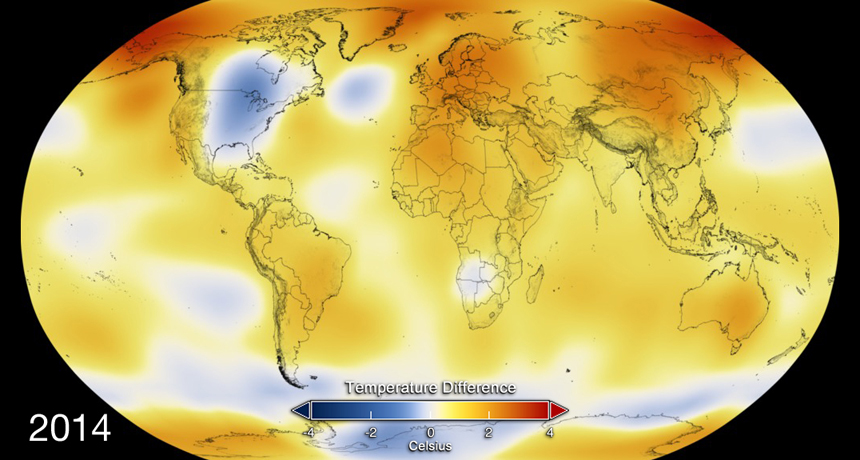 For the third time this century, the world has set a new record for the hottest year on the books.
Last year was the warmest year since scientists started keeping records in 1880, according to a January 16 joint announcement by the National Oceanic and Atmospheric Administration and NASA.
In 2014, the average global surface temperature measured 0.69 degrees Celsius above the 20th century's average temperature of 13.9° C. The rise makes 2014 the 38th consecutive year with above-average heat. In 2010 and 2005, which now tie for the second-warmest year, average temperatures were 0.65 degrees above last century's average.
Steamy seas largely pushed the year into the record books: Global ocean surface temperatures were the highest ever recorded at 0.57 degrees C higher than last century's average of 16.1° C. Average temperatures over land ranked the fourth highest on record.
The continued increase in temperatures is largely due to growth in greenhouse gas emissions, NOAA and NASA scientists said in a press conference. "The trends in greenhouse gases are continuing and so we may anticipate further record highs in the years to come," said Gavin Schmidt, director of NASA's Goddard Institute for Space Studies in New York City.
The agencies also noted that the Arctic is warming twice as fast as lower latitudes.
Despite the worldwide warm-up, much of North America saw unusually cool conditions during 2014. Variations in the polar jet stream moved cold air southward into North America and helped cause a particularly cold beginning of the year.