Scores of telescopes are watching a comet fall apart, and the main show may be only beginning. The comet has already fragmented into at least 59 pieces and may continue to break up as it reaches its position closest to the sun on June 6. In mid-May, the chunks will venture within 11.7 million kilometers of Earth—the closest any comet has come to our planet in 20 years—and the largest fragments should be visible with binoculars.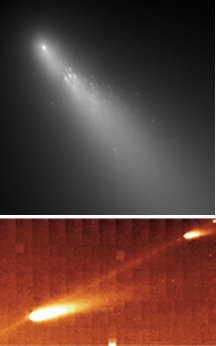 Called Comet 73P/Schwassmann-Wachmann 3, this body passes near the sun every 5.4 years and has been breaking up for years. But over the past month, the Hubble Space Telescope and other instruments have documented that a few of the 36-or-so biggest chunks have each split into several dozen smaller bits 20 to 30 meters across.
The ongoing breakup attests that the cores of comets "are as fragile as the meringue in lemon-meringue pie," says Casey Lisse of the Johns Hopkins Applied Physics Laboratory in Laurel, Md.
Many short-period comets—those that orbit the sun at least once every 200 years—may end their lives by splitting up, says Hal Weaver of Johns Hopkins.
Infrared images of the comet taken with the Spitzer Space Telescope and released this week show large amounts of millimeter-to-centimeter-diameter dust particles bridging the large fragments. The ejection of millimeter-size dust might be the primary way in which comets lose material and disintegrate, says Spitzer scientist Bill Reach of the California Institute of Technology in Pasadena.
Spectra from Spitzer also reveal that the largest fragment, dubbed C, contains a higher abundance of micrometer-size silicate grains than is typically seen in intact short-period comets, says Cincinnati-based Spitzer scientist Michael Sitko of the Space Science Institute. "The breakup has cracked the comet open like an egg," revealing its interior composition, Sitko says.
Recent Hubble images show that several house-size fragments generated by the breakup of one of the larger chunks, dubbed B, are being pushed in the direction opposite to the sun. Weaver and his colleagues suggest that solar heating has vaporized icy patches on the chunks, jetting them toward the comet's tail.
Subscribe to Science News
Get great science journalism, from the most trusted source, delivered to your doorstep.
Solar heating may also be responsible for the comet's breakup. Although this heat isn't likely to penetrate more than a meter beneath a comet's surface, notes Lisse, that might be deep enough if the heat encounters a large crack within a highly porous comet.
Nevertheless, Lisse says that a "great mystery" remains: "How can a body as weak as meringue come together on a kilometer scale, then fall apart?"