Cell death may spur aging
Genetic mutations in cells' internal powerhouses could contribute to aging by stifling tissue maintenance, according to new research.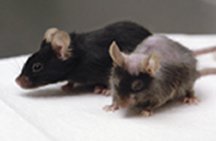 These power-generating organelles, known as mitochondria, have their own DNA separate from that in a cell's nucleus. In a previous study, researchers in Sweden created mutant strains of mice that accumulated excess mitochondrial mutations. The mice aged faster than normal, suggesting that mutations contribute to aging.
Tomas Prolla of the University of Wisconsin–Madison and his colleagues set out to find out just how the mutations might be doing this. Working with the same mutant-mouse strain that the Swedish researchers did, Prolla's team measured levels of cell death, or apoptosis, in several different tissues. When compared with tissues from normal mice, many of the tissues in the mutant strain showed significantly more apoptosis. The researchers suggest that the damaged mitochondria prompt cells to die.
Prolla and his colleagues note in the July 15 Science that the loss of critical cells, such as stem cells responsible for maintaining most tissues, could lead to gray hair, failing senses, and other signs of old age.