College COVID-19 testing can reduce coronavirus deaths in local communities
Tracking campus cases can help nearby towns assess risk and take safety measures when needed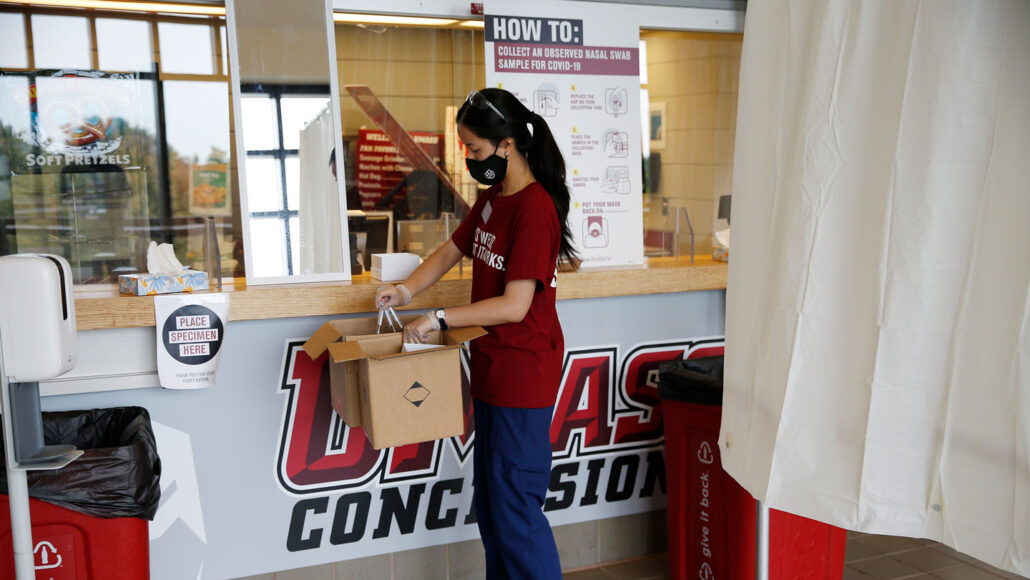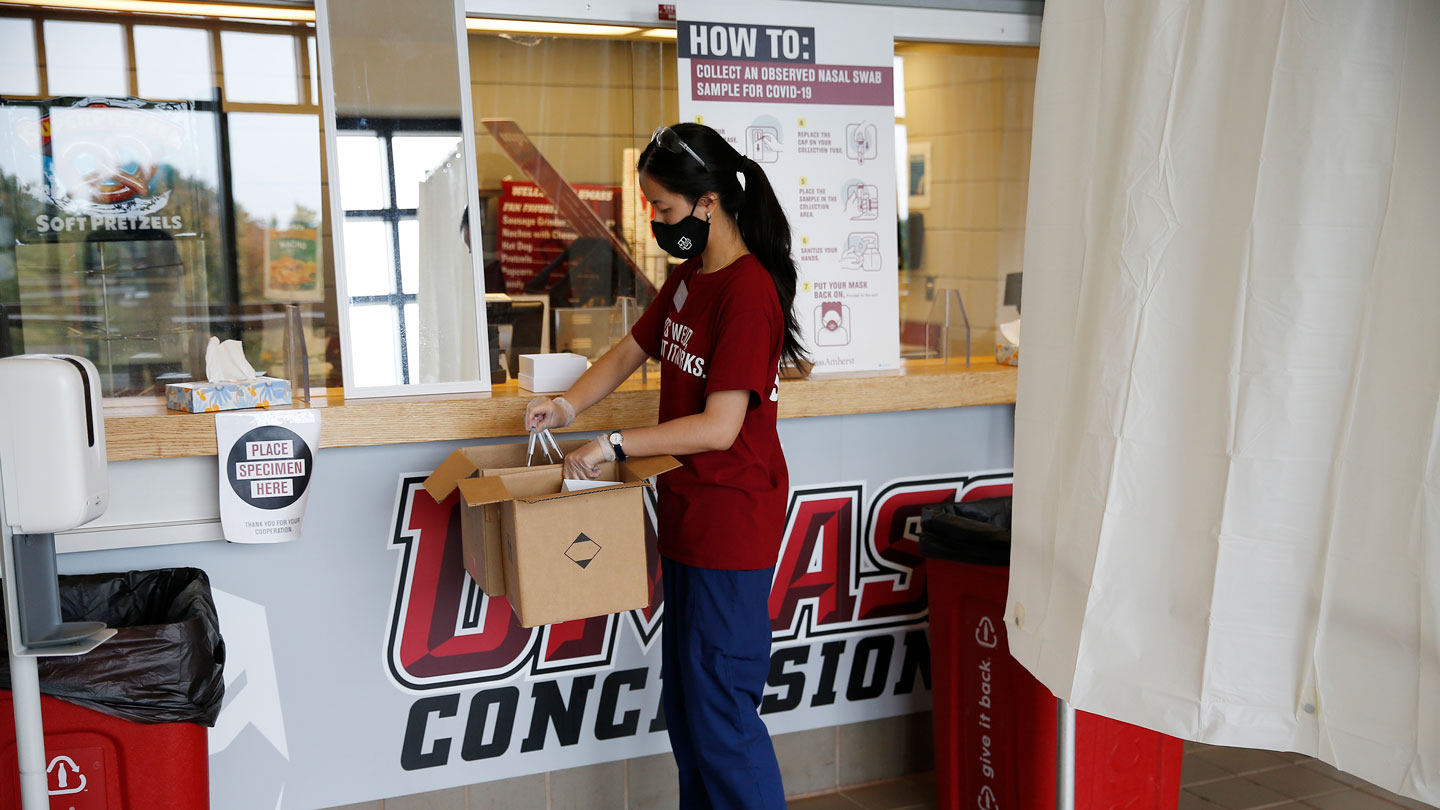 Getting a COVID-19 test has become a regular part of many college students' lives. That ritual may protect not just those students' classmates and professors but also their municipal bus drivers, neighbors and other members of the local community, a new study suggests.
Counties where colleges and universities did COVID-19 testing saw fewer COVID-19 cases and deaths than ones with schools that did not do any testing in the fall of 2020, researchers report June 23 in PLOS Digital Health. While previous analyses have shown that counties with colleges that brought students back to campus had more COVID-19 cases than those that continued online instruction, this is the first look at the impact of campus testing on those communities on a national scale (SN: 2/23/21).
"It's tough to think of universities as just silos within cities; it's just much more permeable than that," says Brennan Klein, a network scientist at Northeastern University in Boston.
Colleges that tested their students generally did not see significantly lower case counts than schools that didn't do testing, Klein and his colleagues found. But the communities surrounding these schools did see fewer cases and deaths. That's because towns with colleges conducting regular testing had a more accurate sense of how much COVID-19 was circulating in their communities, Klein says, which allowed those towns to understand the risk level and put masking policies and other mitigation strategies in place.
The results highlight the crucial role testing can continue to play as students return to campus this fall, says Sam Scarpino, vice president of pathogen surveillance at the Rockefeller Foundation's Pandemic Prevention Institute in Washington, D.C. Testing "may not be optional in the fall if we want to keep colleges and universities open safely," he says.
Finding a flight path
As SARS-CoV-2, the virus that causes COVID-19 rapidly spread around the world in the spring of 2020, it had a swift impact on U.S. college students. Most were abruptly sent home from their dorm rooms, lecture halls, study abroad programs and even spring break outings to spend what would be the remainder of the semester online. And with the start of the fall semester just months away, schools were "flying blind" as to how to bring students back to campus safely, Klein says.
Subscribe to Science News
Get great science journalism, from the most trusted source, delivered to your doorstep.
That fall, Klein, Scarpino and their collaborators began to put together a potential flight path for schools by collecting data from COVID-19 dashboards created by universities and the counties surrounding those schools to track cases. The researchers classified schools based on whether they had opted for entirely online learning or in-person teaching. They then divided the schools with in-person learning based on whether they did any testing.
It's not a perfect comparison, Klein says, because this method groups schools that did one round of testing with those that did consistent surveillance testing. But the team's analyses still generally show how colleges' pandemic response impacted their local communities.
Overall, counties with colleges saw more cases and deaths than counties without schools. However, testing helped minimize the increase in cases and deaths. During the fall semester, from August to December, counties with colleges that did testing saw on average 14 fewer deaths per 100,000 people than counties with colleges that brought students back with no testing — 56 deaths per 100,000 versus about 70.
College testing advantage
During the fall of 2020, the first semester colleges and universities brought students back to campus during the pandemic, counties with schools that did COVID-19 testing had a lower death rate on average (red line) than schools that did not do testing (yellow line), a new data analysis shows. Counties with campus testing experienced 56 COVID-19 deaths per 100,000 residents; that average rose to about 70 per 100,000 in counties without any testing. In comparison, the national death rate (black line) for that time period was about 59 deaths per 100,000 but often tracked a little lower than that of college counties, researchers found.
Impact of university and college COVID-19 testing on local COVID-19 death rates, fall 2020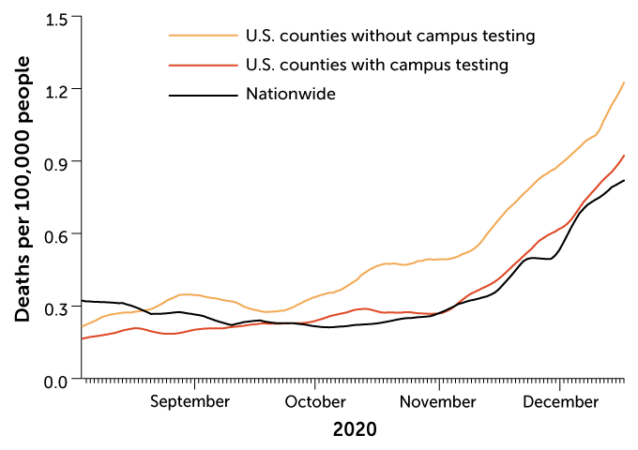 Source: Brennan Klein/Northeastern University
The University of Massachusetts Amherst, with nearly 30,000 undergraduate and graduate students in 2020, is one case study of the value of the testing, Klein says. Throughout the fall semester, the school tested students twice a week. That meant that three times as many tests occurred in the city of Amherst than in neighboring cities, he says. For much of the fall and winter, Amherst had fewer COVID-19 cases per 1,000 residents than its neighboring counties and statewide averages.
Once students left for winter break, campus testing stopped – so overall local testing dropped. When students returned for spring semester in February 2021, area cases spiked — possibly driven by students bringing the coronavirus back from their travels and by being exposed to local residents whose cases may have been missed due to the drop in local testing. Students returned "to a town that has more COVID than they realize" Klein says.
Renewed campus testing not only picked up the spike but quickly prompted mitigation strategies. The university moved classes to Zoom and asked students to remain in their rooms, at one point even telling them that they should not go on walks outdoors. By mid-March, the university reduced the spread of cases on campus and the town once again had a lower COVID-19 case rate than its neighbors for the remainder of the semester, the team found.
The value of testing
It's helpful to know that testing overall helped protect local communities, says David Paltiel, a public health researcher at the Yale School of Public Health who was not involved with the study. Paltiel was one of the first researchers to call for routine testing on college campuses, regardless of whether students had symptoms.
"I believe that testing and masking and all those things probably were really useful, because in the fall of 2020 we didn't have a vaccine yet," he says. Quickly identifying cases and isolating affected students, he adds, was key at the time.
But each school is unique, he says, and the benefit of testing probably varied between schools. And today, two and a half years into the pandemic, the cost-benefit calculation is different now that vaccines are widely available and schools are faced with newer variants of SARS-CoV-2. Some of those variants spread so quickly that even testing twice a week may not catch all cases on campus quickly enough to stop their spread, he says.
As colleges and universities prepare for the fall 2022 semester, he would recommend schools consider testing students as they return to campus with less frequent follow-up surveillance testing to "make sure things aren't spinning crazy out of control."
Still, the study shows that regular campus testing can benefit the broader community, Scarpino says. In fact, he hopes to capitalize on the interest in testing for COVID-19 to roll out more expansive public health testing for multiple respiratory viruses, including the flu, in places like college campuses. In addition to PCR tests — the kind that involve sticking a swab up your nose — such efforts might also analyze wastewater and air within buildings for pathogens (SN: 05/28/20).
Unchecked coronavirus transmission continues to disrupt lives — in the United States and globally — and new variants will continue to emerge, he says. "We need to be prepared for another surge of SARS-CoV-2 in the fall when the schools reopen, and we're back in respiratory season."