View zoomable JPL map

One building houses what has been deemed the NASA Jet Propulsion Laboratory's "best bathroom." Another, an atomic clock. And naturally the scientists and engineers at the Pasadena, Calif., lab that built the Curiosity rover have a Mars Yard that simulates the surface of the Red Planet, complete with rocks and sand.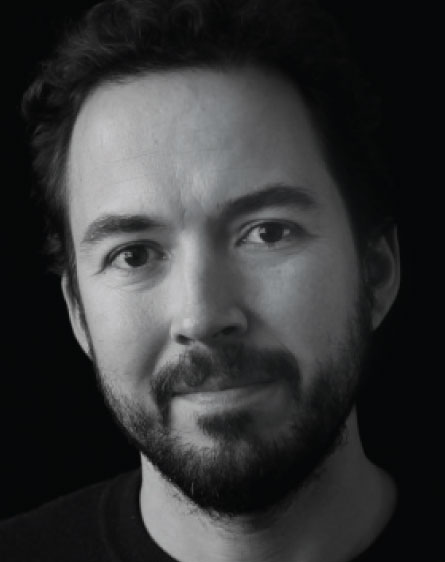 Luke Johnson (right), a graphic designer, has illustrated scientists' day-to-day life at the storied lab, mapping what he calls JPL's "curiosities." Best known for its role in crafting and commanding spacecraft such as Curiosity, JPL is also home to decades' worth of accumulated oddities.
The mapping project started on a whim, a casual challenge to visit every building on campus, in order. JPL's buildings are numbered according to when they received funding — so Building 185 is unpredictably nestled into a nook in L-shaped Building 156 — and Johnson had to trace a serpentine path around the campus. He brought a GPS tracking device, pedometer, camera and notebook. Four days and 84 kilometers later, the trip was done — but not without leaving its mark. "I got a pretty bad sunburn," Johnson says.
Science News headlines, in your inbox
Headlines and summaries of the latest Science News articles, delivered to your email inbox every Thursday.
Thank you for signing up!
There was a problem signing you up.
JPL ended up funding the map, which is now available to employees and visitors. (There's a smartphone app, too.) The front page reads as an homage to the lab's culture and 77-year history, including biographies of former directors, a list of strange jobs at JPL and photos of campus safety signs. The back outlines walking tours with titles such as "Parking Space: The Final Frontier."
Johnson, 34, once seemed destined for medical school. But his interests tugged him in a different direction. "I spent a lot of time just doing really weird things — I was into really large-scale projections, and these funny art and design projects that I would really throw myself into," he says of his time in college. "I did get through organic chemistry, too."
He eventually landed at JPL. Now, he probably knows the campus better than anyone else — and can easily point out buildings recessed into the mountains and where to find a skeleton. "It's a weird place," he says. "You would think if you were in a place that you worked, and you passed by an underground building, you would take note of it. [But] after a while, I think that just sort of becomes normal."
---
A map of NASA's Jet Propulsion Lab highlights the lab's many curiosities.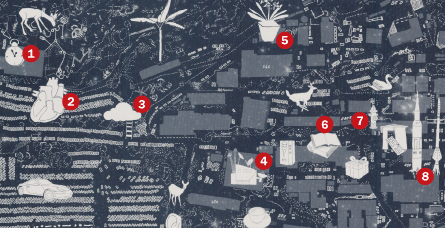 L. Johnson, Erin Ellis and Christiane Holzheid | View zoomable map
1. Atomic clock Set your watch, if you have one, to one of the world's most stable clocks. Located in Building 298.
2. Cardiac parking lot A lab favorite after Thanksgiving and New Year's, this distant lot is great for exercise buffs and overachievers. Follow a steep hill above the West Parking Lot.
Subscribe to Science News
Get great science journalism, from the most trusted source, delivered to your doorstep.
3. Stairway to heaven A mysterious set of stairs leading to nowhere. On the corner of Explorer and G Road.
4. Center of the universe Command and control center for NASA's Deep Space Network, managed by JPL. Located in Building 230.
5. The "Orchid" The 25-Foot Space Simulator, a National Historic Landmark, also houses a cryogenic chamber. Located in Building 150.
6. William Pickering's old office Touch the original wood paneling from the office of one of JPL's most legendary directors. Located in Building 111, Room 101.
7. Fire department When wildfire threatens the lab (as it did in 2009), JPL's own fire department is on the scene. Inside Building 310.
8. Two rockets Freestanding rockets commemorate JPL's beginnings as a testing ground in the 1930s. Located near Building 83.

Hover mouse over image to zoom.