As we scramble to put out the issue of Science News each week, there's little time for reflection. Fellowships, which generally last a week to a year, can give our writers a broader perspective on the fields that they cover. Two Science News writers have recently received prestigious fellowships. In addition to providing valuable opportunities for the individual writer, these awards indicate an appreciation of the quality of the articles published in the magazine. As further recognition, one of our articles has been selected to appear in an annual collection of the best U.S. science writing.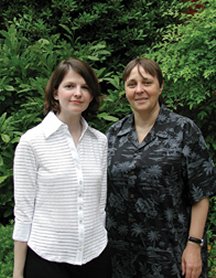 Jessica Gorman, who has covered chemistry for Science News for 3 years, was named as a Knight Science Journalism Fellow. With nine other fellows, she will spend the next academic year at the Massachusetts Institute of Technology attending seminars and classes, interacting with scientists in their laboratories, and conducting independent journalistic research. Jessica plans to focus on work in materials science, chemistry, and nanotechnology, as well as the intersection of these disciplines with biology. She also intends to explore the societal impact of new developments, such as nanotechnology (SN: 3/30/02, p. 200: Taming High-Tech Particles), and see first-hand how scientists are responding to concerns about their work.
Susan Milius recently completed the National Tropical Botanical Garden's Environmental Journalism Fellowship Program. She was one of nine journalists who traveled to Kauai, Hawaii, to deepen their background in tropical ecology and environmental issues. Activities included field excursions to some of the island's imperiled ecosystems, lectures in tropical specialties such as breadfruit biodiversity and medical ethnobotany, and demonstrations of Pacific cultural uses of plants. Susan says that even years' of hearing and reading botanists' laments about invasive species hadn't prepared her for the shock of looking at a lush green landscape and realizing that none of the plants in sight was native to the island. Finally, she says, it's exciting to have had first-hand experience with tropical agriculture by sampling breadfruit, taro, fresh coconut milk, and lychees just picked from a tree.
Susan, who has covered life sciences for Science News since 1998, was also honored with the selection of "Why Turn Red?" (SN: 10/26/02, p. 264: Why Turn Red?) as one of the best journalistic science articles of last year. It will appear in the book The Best American Science Writing 2003, published by Ecco/HarperCollins. The article examines scientists' current ideas about why an autumn leaf with only a few weeks left summons its faltering resources for a burst of production of bright red pigment. Susan presents relevant experimental results from fields as diverse as geography and biochemistry.
****************

If you have a comment on this article that you would like considered for publication in Science News, send it to editors@sciencenews.org. Please include your name and location.