Flaming fuel on water creates 'blue whirl' that burns clean
Method may have practical use in fuel spill cleanup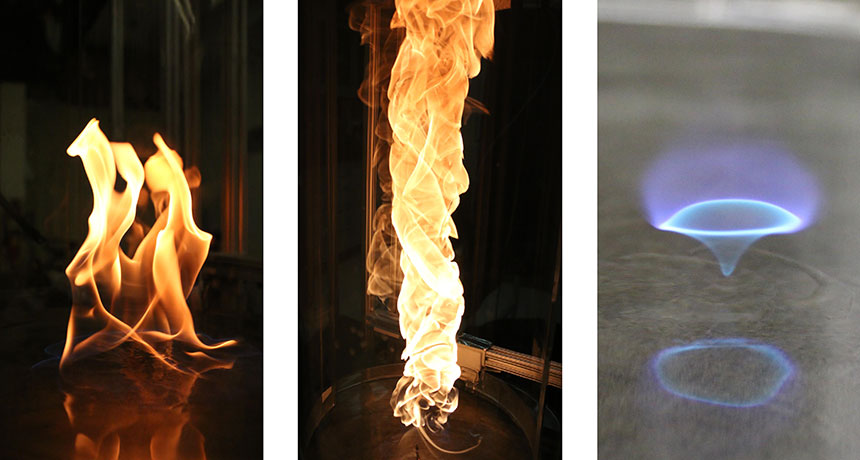 Blue whirl
Bloo werl n.
A swirling flame that appears in fuel floating on the surface of water and glows blue.
An unfortunate mix of electricity and bourbon has led to a new discovery. After lightning hit a Jim Beam warehouse in 2003, a nearby lake was set ablaze when the distilled spirit spilled into the water and ignited. Spiraling tornadoes of fire leapt from the surface. In a laboratory experiment inspired by the conflagration, a team of researchers produced a new, efficiently burning fire tornado, which they named a blue whirl.
Science News headlines, in your inbox
Headlines and summaries of the latest Science News articles, delivered to your email inbox every Thursday.
Thank you for signing up!
There was a problem signing you up.
To re-create the bourbon-fire conditions, the researchers, led by Elaine Oran of the University of Maryland in College Park, ignited liquid fuel floating on a bath of water. They surrounded the blaze with a cylindrical structure that funneled air into the flame to create a vortex with a height of about 60 centimeters. Eventually, the chaotic fire whirl calmed into a blue, cone-shaped flame just a few centimeters tall, the scientists report online August 4 in Proceedings of the National Academy of Sciences.
Subscribe to Science News
Get great science journalism, from the most trusted source, delivered to your doorstep.
"Firenadoes" are known to appear in wildfires, when swirling winds and flames combine to form a hellacious, rotating inferno. They burn more efficiently than typical fires, as the whipping winds mix in extra oxygen, which feeds the fire. But the blue whirl is even more efficient; its azure glow indicates complete combustion, which releases little soot, or uncombusted carbon, to the air.
The soot-free blue whirls could be a way of burning off oil spills on water without adding much pollution to the air, the researchers say, if they can find a way to control them in the wild.
SWIRLING FLAME Fuel burning on top of water produces a flaming tornado that transitions into a calmly spinning blue whirl.H. Xio, M.J. Gollner, E.S. Oran/Univ. of Maryland