Heartburn drugs can damage cells that line blood vessels
Study suggests explanation for proton pump inhibitors' link to severe side effects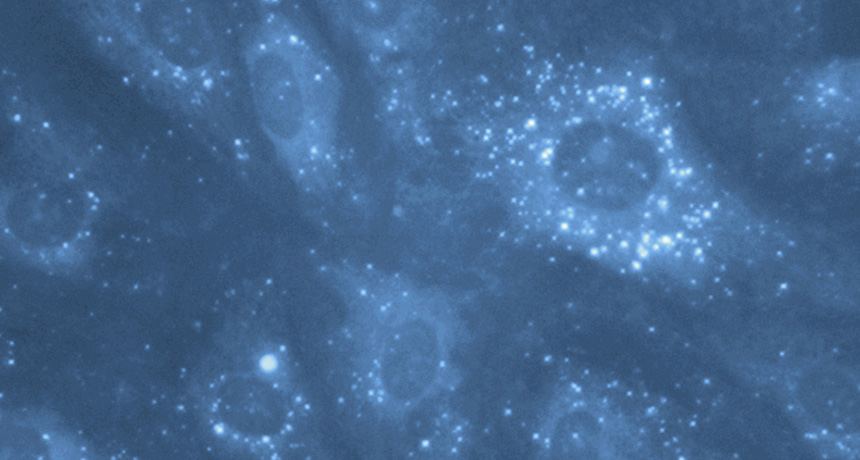 A popular type of heartburn medicine could hasten wear and tear of blood vessels.
Proton pump inhibitors, or PPIs, gunk up cells that typically line the veins and arteries like a slick coat of Teflon, researchers report May 10 in Circulation Research. Excess cellular junk ages the cells, which could make blood vessels work less smoothly.
The results, though controversial, are the first inkling of evidence that might explain why PPIs have recently been linked to so many different health problems, from heart attacks to dementia.
"The authors present a compelling story," says Ziyad Al-Aly, a nephrologist at the Veterans Affairs Saint Louis Health Care System in Missouri. It begins to outline how using PPIs could spell trouble later on, he says. But Al-Aly notes that the study has one big limitation: It was done in cells, not people.
Gastroenterologist Ian Forgacs from King's College Hospital in London agrees. Drawing conclusions about humans from cells grown in the lab requires "a huge leap of faith," he says. So far, scientists have found only correlations between PPIs and their alleged side effects. "We need to know whether these drugs really do cause dementia and coronary disease and renal disease," he says.
In the last few decades, proton pump inhibitors have emerged as a kind of wonder drug for heartburn. The drugs switch off molecular machines that pump acid into the stomach. So less acid surges up to burn the esophagus.
In 2012, nearly 8 percent of U.S. adults were taking prescription PPIs, according to a survey published last year in JAMA. (Some PPIs are also available over-the-counter.) Many people use PPIs for longer than they're supposed to, says study coauthor John Cooke, a cardiologist at Houston Methodist Research Institute in Texas. "These are very powerful drugs­ — they're not Tums," he says. "They have side effects."
Several of these side effects are still under debate. And if PPIs do increase the risk of dementia, say, or kidney disease, no one knows how. So Cooke and colleagues explored what chronic exposure to the drugs, which travel through the bloodstream, does to cells lining the blood vessels.
Subscribe to Science News
Get great science journalism, from the most trusted source, delivered to your doorstep.
Human cells treated with a PPI called esomeprazole (sold as Nexium) seemed to age faster than untreated cells, the researchers found. The cells lost their youthful shape and instead "looked kind of like a fried egg," Cooke says. They also lost the ability to split into new cells, among other signs of aging.
Cooke traced the rapid aging to mishaps in acid-filled cellular chambers called lysosomes. These chambers act as tiny garbage disposals; they get rid of junk like broken-down proteins. But PPIs, which work so well at shutting down acid production in the stomach, also seemed to shut down the acidic garbage disposals, too, the researchers found. That caused proteins to pile up, forming "little heaps of rubbish," Cooke says.
Mucking with blood vessels' lining could trigger all sorts of problems. For instance, instead of gliding easily through, platelets and white blood cells could get hung up, sticking to vessel walls like Velcro. "That's how hardening of the arteries starts," Cooke says.
The next step is to see if similar damage occurs in people. Doctors and regulatory agencies should take a second look at the widespread use of PPIs, too, Cooke says. "There's enough data now that we have to be very cautious in our use of these agents."
But some researchers think PPIs are getting a bum rap. "Everybody and their mother now want to hammer PPIs," says gastroenterologist David Metz of the University of Pennsylvania. "It's unfortunate because they're spectacular drugs and they save people's lives."
The real question, Al-Aly says, is whether the benefits outweigh the risks.