Intel ISEF honors teens' science
Winners of science competition announced
PHOENIX — A self-driving vehicle brought its inventor, a 19-year-old Romanian computer scientist, the top prize — and $75,000 — last month at the world's premier high school research competition. Ionut Budisteanu, of Râmnicu Vâlcea, Romania, was the big winner at the 2013 Intel International Science and Engineering Fair.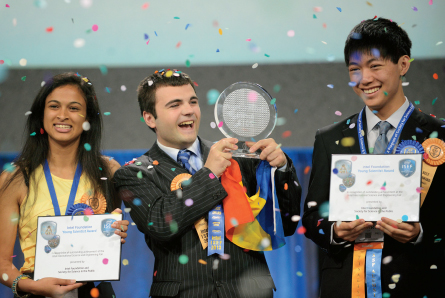 "This competition encourages millions of students worldwide every year to explore their passion for math and science while developing solutions for global challenges," said Wendy Hawkins, the executive director of the Intel Foundation.
Budisteanu received his award for designing software to pilot a low-cost, self-navigating vehicle. His design relies on cameras to detect people, cars and other objects. Onboard 3-D laser radar measures distance to those objects. The software then uses that information to adjust the speed of the vehicle.
Science News headlines, in your inbox
Headlines and summaries of the latest Science News articles, delivered to your email inbox every Thursday.
Thank you for signing up!
There was a problem signing you up.
Two other young researchers each won $50,000 awards. Eesha Khare, 18, of Saratoga, Calif., picked up one for designing and building a supercapacitor, a device to store electrical energy. Her novel device can charge up very quickly. It also can store almost three times as much electrical energy as previous capacitors. And unlike previous capacitors, it stores that energy in a tiny volume, one comparable to a battery's. Her new device also holds a charge far longer than batteries do.
The other $50,000 award went to Henry Wanjune Lin, 17, of Shreveport, La., for modeling the behavior of distant galaxies. Lin compared his mathematical predictions about galaxy clusters with what astronomers have observed using telescopes. He found that the scientists are slightly more likely to find a particular type of cluster: one with galaxies that have cooler-than-usual temperatures at their cores. But overall, the teen confirmed, the way astronomers have been surveying clustered galaxies works well.
Seventeen "best of category" awards, each worth $5,000, were given out, including to Budisteanu, Khare, and Lin in each of their fields.
"The Intel ISEF inspires students not previously involved in such competitions to see that independent research is both possible and rewarding," said Elizabeth Marincola, president of Society for Science & the Public and publisher of Science News.
---
Category Winners
Subscribe to Science News
Get great science journalism, from the most trusted source, delivered to your doorstep.
In addition to the three top winners, Intel ISEF finalists picked up 14 other "best of category" awards.
Animal sciences Michael Shao, 16, Northville, Mich., for showing how a worm responds to cold temperatures.
Behavioral and social sciences Zarin Rahman, 16, Brookings, S.D., for showing that stressful experiences impair a teen's mood and memory.
Earth and planetary sciences Gyou Tanaka, 16, Mobara, Japan, for finding that a site southeast of Tokyo was part of the seafloor 300,000 years ago.
Electrical and mechanical engineering Zeyu Liu, 17, Calgary, Canada, for designing a device that minimizes friction in systems used to store energy in large rotating wheels.
Environmental sciences Naomi Shah, 17, Portland, Ore., for creating an air filter that includes natural materials such as peat, mulch and live plants.
Mathematical sciences Vinay Iyengar, 17, Portland, Ore., for developing new techniques to create secret codes.
Medicine and health Jessie MacAlpine, 17, Woodstock, Canada, for demonstrating that consuming mustard oil inhibits growth of malarial parasites in people.
Microbiology David Zimmerman, 18, Los Angeles, for genetically altering a difficult-to-modify microbe.
Biochemistry Savannah Tobin, 18, Salem, Ore., for developing a method to measure a chemical in cat saliva that can cause allergies in people.
Cellular and molecular biology Hannah Wastyk, 17, Palmyra, Pa., for developing a promising treatment for melanoma, a particularly deadly form of cancer.
Materials and bioengineering Samantha Marquez, 17, Midlothian, Va., for creating drug delivery vehicles using bacteria and algae.
Energy and transportation Evie Sobczak, 16, St. Petersburg, Fla., for finding an efficient way to grow algae and then break them down to extract their oil.
Environmental management Shixuan Li, 15, Lynn Haven, Fla., for developing a way to extract an antioxidant from shrimp.
Plant sciences Samantha DiSalvo, Ryan Kenny and Amy Vitha, Hewlett, N.Y., for probing how plants respond to, and sometimes resist, bacterial infections.