A king snake's strength is in its squeeze
Studies suggest how the snake coils matters more than muscle size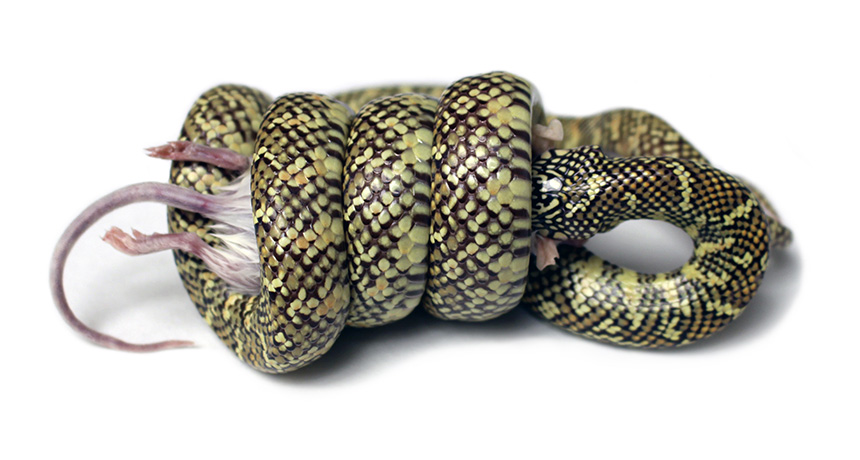 It's not the size of a snake's muscles that matter, but how it uses them. King snakes can defeat larger snakes in a wrestling match to the death because of how they coil around their prey, researchers report March 15 in the Journal of Experimental Biology.
King snakes wrap around their food and squeeze with about twice as much pressure as rat snakes do, says David Penning, a functional morphologist at Missouri Southern State University in Joplin. Penning, along with colleague Brad Moon at the University of Louisiana at Lafayette, measured the constriction capabilities of almost 200 snakes. "King snakes are just little brutes," Penning says.
King snakes, which are common in North American forests and grasslands, are constrictor snakes that "wrestle for a living," Penning says. They mainly eat rodents, birds and eggs, squeezing so hard, they can stop their prey's heart (SN: 8/22/15, p. 4). In addition, about a quarter of the king snake diet is other snakes. King snakes can easily attack and eat vipers because they're immune to the venom, but when they take on larger constrictors, such as rat snakes, it has been unclear what gives them the edge. "That's not how nature goes," Penning says, because predators are usually larger than their prey.
King snakes, though, can eat snakes up to 35 percent larger than themselves. One of the largest king snake conquests on record, from 1893, is of a 5-foot-3-inch rat snake, about 17 percent larger than the 4-foot-6-inch king snake that consumed it, Penning says.
Story continues after image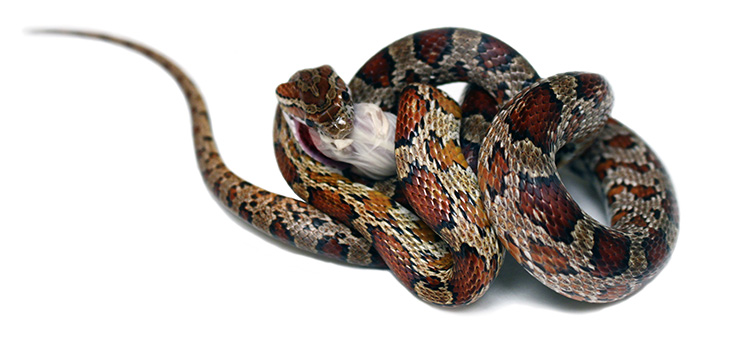 "David Penning is really one of the first researchers that has been looking at the anatomy, physiology and function of these snakes" to understand how king snakes are superior to rat snakes, says Anthony Herrel, a functional morphologist and evolutionary biologist at the French National Museum of Natural History in Paris.
Subscribe to Science News
Get great science journalism, from the most trusted source, delivered to your doorstep.
To determine what makes these snakes kings, Penning and Moon compared their muscle size, ability to escape attack and the strength of their squeeze to that of rat snakes. In one test, the researchers shook dead rodents enticingly in front of the snakes to goad them into striking and squeezing. Sensors on the rodents recorded the pressure of the squeeze.
The king snakes constricted with an average pressure of about 20 kilopascals, stronger than the pumping pressure of a human heart. Rat snakes in the same tests applied only about 10 kilopascals of pressure.
But the king snakes weren't bigger body builders. Controlling for body size, the two kinds of snakes "had the exact same quantity of muscle," Penning says.
The snakes' more powerful constriction is probably due to how they use their muscles, not how much muscle they have, the researchers conclude. They observed that the majority of king snakes in the study wrapped around their food like a spring in what Penning calls the "curly fry pattern." Rat snakes didn't always coil in the same way and often ended up looking like a "weird pile of spaghetti," he says.
Penning plans to study how other factors influence constriction as well, such as how long the king snakes can squeeze, how hungry they are and the temperature of their environment.