Lidar maps vast network of Cambodia's hidden cities
Extent of Khmer Empire rising from the jungle is stunning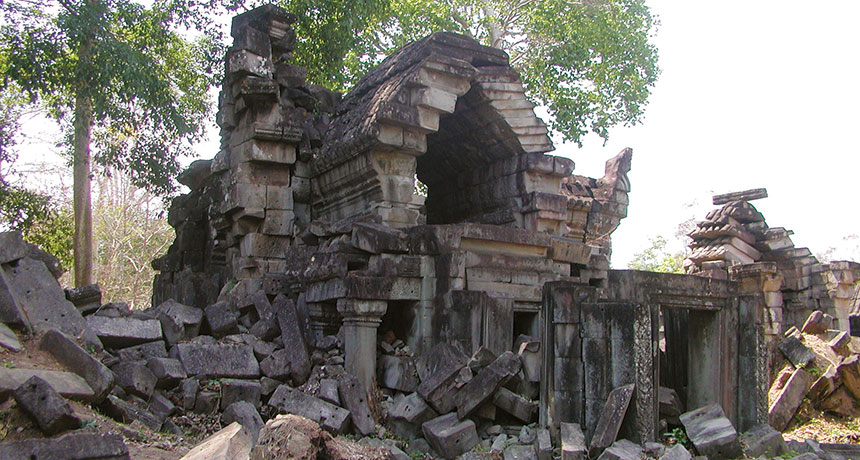 Thanks to modern laser technology, Southeast Asia's Khmer Empire is rising from forest floors for the first time in centuries.
New findings show the remarkable extent to which Khmer people built cities and transformed landscapes from at least the fifth to the 15th century, and perhaps for several hundred years after that, says archaeologist Damian Evans of Cambodia's Siem Reap Center. Laser mapping in 2015 of about 1,910 square kilometers of largely forested land in northern Cambodia indicates that gridded city streets and extensive canals emerged surprisingly early, by around A.D. 500, Evans reports June 13 in the Journal of Archaeological Science. Researchers have generally assumed that large-scale urban development began later at Greater Angkor, capital of the Khmer Empire from the ninth to 15th centuries (SN: 5/14/16, p. 22).
A helicopter carrying light detection and ranging equipment, lidar for short, flew sorties over seven Khmer sites in the vicinity of Greater Angkor. Lidar's laser pulses gathered data on the contours of jungle- and vegetation-covered land. Lidar maps revealed city blocks, canals and other remnants of past settlements.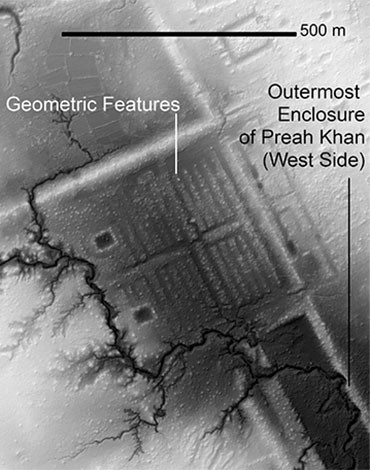 Mysterious ground features previously identified by lidar surveys at Angkor Wat temple in Greater Angkor also turned up at several sites, some located as many as 100 kilometers from Greater Angkor. Those sites include the eighth to ninth century city of Mahendraparvata and a 12th century city, Preah Khan of Kompong Svay. Fields of precisely arranged earthen mounds at these settlements may have been used to collect rainwater, Evans speculates. Earthen embankments forming coiled or spiral patterns might have been gardens or ceremonial spaces.
"It's humbling to see the lidar data and realize how much was previously missed in ground surveys at Preah Khan," says archaeologist Mitch Hendrickson of the University of Illinois at Chicago. Hendrickson conducts research at Preah Khan, one of several ancient cities that provided food and other services to Greater Angkor via an extensive road system.
Before the 2015 lidar survey, Mahendraparvata was known "only from inscription texts and a few bits of broken-down masonry," adds archaeologist Charles Higham of the University of Otago in Dunedin, New Zealand. Mahendraparvata's laser-traced layout indicates it was an early, small-scale version of Greater Angkor, Higham says.
A military invasion and sacking of Greater Angkor in the 15th century apparently did not result in most of its roughly 750,000 residents abandoning the site, as many investigators have thought. Lidar data from 2015 indicate that Khmer capitals established after Greater Angkor's defeat, such as Longvek and Oudong, show no signs of dense populations created by mass relocations from the former capital, Evans says.
That suggests that the political state collapsed at Greater Angkor, but hundreds of thousands of rice farmers carried on, Hendrickson says. "Lots of fish and rice were still available," he says. "Local farmers were more resilient than the state was."