A magnitude 8.0 earthquake struck off Santa Cruz Island, part of the Solomon Islands, in the southwest Pacific Ocean February 6 at 12:12 p.m. local time. The quake triggered a tsunami and numerous aftershocks, including at least three with magnitudes greater than 6.0.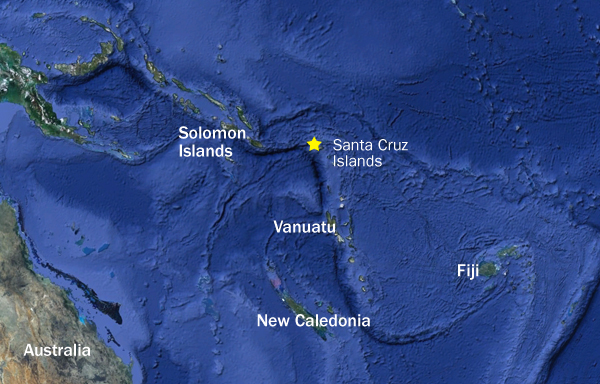 The tsunami killed at least five people and damaged homes in several villages, according to a Reuters news story.
The quake hit 81 kilometers west of the town of Lata on Santa Cruz Island, at a depth of 28.7 kilometers beneath the seafloor, according to the U.S. Geological Survey. The temblor occurred either on or near the boundary between two plates of Earth's crust, where the northeast-moving Australian plate dives beneath the Pacific plate. Large earthquakes are common where such plate collisions occur.
The earthquake happened on a thrust fault, which means that one side of the fault pushes up during a quake. This upward movement of the seafloor displaced a huge volume of water, unleashing a tsunami that reached several islands in the region. At the Lata Wharf, the wave measured 91 centimeters above normal sea level, the Pacific Tsunami Warning Center reported.
Given the quake's size and depth, geophysicist Jessica Turner of the USGS Earthquake Information Center in Golden, Colo., was not surprised that a tsunami formed. "We usually see tsunamis beginning around magnitude 7 and with a shallow depth — anything under 50 kilometers," she says.
Residents of the Solomon Islands are no strangers to large earthquakes. In April 2007, a magnitude 8.1 quake rocked the country, striking about 700 kilometers northwest of the February 6 temblor. A magnitude 7.1 event struck in January 2010. And in the month leading up to today's earthquake, seismometers recorded dozens of quakes in the region, seven with a magnitude of 6.0 or higher.