New case emerging for Culex mosquito as unexpected Zika spreader
Early data from new lab tests reopen question of non-Aedes vectors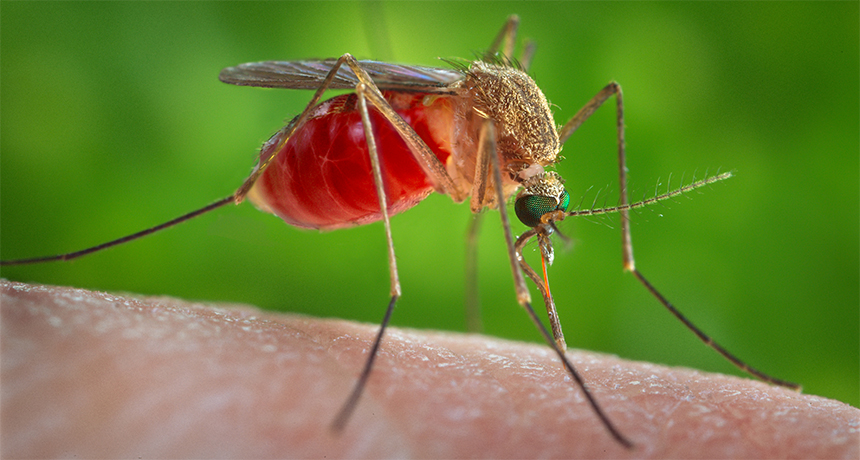 ORLANDO, Fla. — New evidence from separate labs supports the controversial idea that an overlooked and unexpected Culex mosquito might spread Zika virus.
The southern house mosquito, Culex quinquefasciatus, is common in the Americas. Constância Ayres, working with Brazil's Oswaldo Cruz Foundation in Recife, previously surprised Zika researchers with the disturbing proposal that this mosquito might be a stealth spreader of Zika. But two U.S. research groups tested the basic idea and couldn't get the virus to infect the species.
Science News headlines, in your inbox
Headlines and summaries of the latest Science News articles, delivered to your email inbox every Thursday.
Thank you for signing up!
There was a problem signing you up.
Now, preliminary results from Ayres' and two other research groups are renewing the discussion. The data, shared September 26 at the International Congress of Entomology, suggest that Zika can build up in the house mosquito's salivary glands — a key step in being able to transmit disease. Basic insect physiology is only part of the puzzle, though. Even if the mosquitoes prove competent at passing along Zika, there remain questions of whether their tastes, behavior and ecology will lead them to actually do so.
In the current outbreak, the World Health Organization has focused on mosquitoes in a different genus, Aedes, particularly Ae. aegypti, as the main disease vector. But Ayres had announced months ago the discovery of the virus in Brazil's free-flying house mosquitoes (SN Online: 7/28/16).
At the congress, Ayres' foundation colleague Duschinka Guedes reported that captive mosquitoes fed Zika-tainted blood had virus growing in their own guts and salivary glands within days. The virus doesn't spread every time a mosquito slurping contaminated blood gets virus smeared on its mouthparts, though. To move from the mosquito to what it bites, viruses have to infect the insect midgut, then travel to the salivary glands and build up enough of a population for an infective dose drooling into the next victim. When Guedes offered the infected mosquitoes a special card to bite, they left telltale virus in the salivary traces, a sign of what they could do when biting — and infecting — a real animal.
Researchers from China and Canada who were not originally on the symposium program also stepped up to share their results, some of which are unpublished. Some tasks are still in early stages, but both labs showed Zika virus building up in some kind of Culex mosquitoes.
Subscribe to Science News
Get great science journalism, from the most trusted source, delivered to your doorstep.
At the Beijing Institute of Microbiology and Epidemiology, Tong-Yan Zhao found the virus peaking in the house mosquitoes eight days after their first contaminated drink. As a test of the infectious powers of the mosquitoes, researchers let the Zika-carrying insects bite baby lab mice. Later, the virus showed up in the brains of eight out of nine lab mice. The results were reported September 7 in Emerging Microbes & Infections.
From Brock University in St. Catharines, Canada, Fiona Hunter has found signs that 11 out of 50 wild-caught Culex pipiens pipiens mosquitoes picked up the virus somewhere on their bodies. So far, she has completely analyzed one mosquito and reports that the virus was indeed in its saliva.
These positive results contradict Culex tests at the University of Texas Medical Branch in Galveston. Those tests, with U.S. mosquitoes, found no evidence that C. quinquefasciatus can pick up and pass along a Zika infection, says study coauthor Scott Weaver. Stephen Higgs of Kansas State University in Manhattan and his colleagues got similar results. "We're pretty good at infecting mosquitoes," Higgs says, so he muses over whether certain virus strains won't infect mosquitoes from particular places.
The main risk from Culex at the moment is distraction, warned Roger Nasci of North Shore Mosquito Abatement District in Northfield, Ill. After the talks, he rose from the audience to say that Ae. aegypti is a known enemy and limited resources should not be diverted from fighting it.
George Peck, who runs mosquito control for Clackamas County in Oregon, isn't convinced that the high virus concentrations dosing the test mosquitoes are realistic. Yet he's watching the issue because like much of northern North America, Clackamas doesn't have the Ae. aegypti vector to worry about. But it does have plenty of Culex mosquitoes.
---
Editor's note: This story was updated September 30, 2016, to add information relating to Zhao's study.