WASHINGTON — The high-wattage glitz and glamour at the 2011 Intel Science Talent Search gala couldn't outshine the minds of America's best young scientists, mathematicians and engineers. You could do the math — perhaps with help from first-prize winner Evan Michael O'Dorney, 17, of Danville, Calif. He garnered the top award of $100,000 from the Intel Foundation for his mathematical insights on how to best estimate a number's square root. O'Dorney and the other top 10 winners of the science competition were named March 15 at the National Building Museum in Washington, D.C.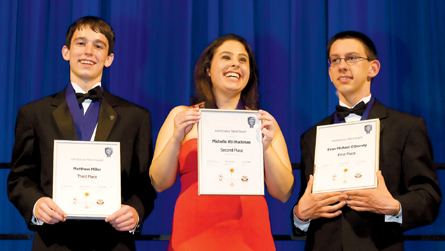 Guided by his deep, lifelong fascination with patterns of numbers, O'Dorney discovered an unexpectedly simple formula that clears up a mysterious link between two methods that approximate square roots. His work was rated first by Intel Science Talent Search judges, who have spent an average of 30 years as working scientists. His project beat out 39 other finalists chosen from 1,744 proposals. The competition has been administered by Society for Science & the Public, publisher of Science News, since 1942.
Second place and $75,000 went to Michelle Abi Hackman, 17, of Great Neck, N.Y., for her project on what happens when teenagers and cell phones are separated. Students without phones weren't more anxious, Hackman found in her study of 150 high school students. But phoneless teens did appear to be more bored.
Science News headlines, in your inbox
Headlines and summaries of the latest Science News articles, delivered to your email inbox every Thursday.
Thank you for signing up!
There was a problem signing you up.
Matthew Miller, 18, of Elon, N.C., won third place and $50,000 for engineering energy-boosting bumps on wind turbine blades. Miller's design, first tested in a wind tunnel in his family's garage, doesn't increase turbine noise and instead creates a more pleasant sound.
"It is innovation and creativity that powers society," said Society for Science & the Public president Elizabeth Marincola. "Society for Science & the Public and Intel could not be prouder of our 40 Intel STS finalists of 2011."
Fourth place and $40,000 went to Madeleine Amanda Ball, 18, of Dallas, Texas, for discovering that freshwater copepods can harbor cholera-causing bacteria. Selena Shi-Yao Li, 17, of Fair Oaks, Calif., won fifth place and a $30,000 award for her studies on a new way to treat liver cancer. Sixth place and $25,000 went to Keenan Monks, 17, of Hazleton, Pa., for research on the mathematics of elliptical curves, which has applications in cryptography. Seventh place was awarded to Benjamin Mathias Clark, 15, of Lancaster, Pa., for his studies of binary star systems.
Eighth through 10th places, each of which comes with a $20,000 award, went to Xiaoyu Cao, 17, of San Diego, Calif., for designing a better way to make biosensors; Jenny Jiaqi Liu, 18, of Orange, Conn., who found that people respond better to robots that exhibit emotions; and Scott Paul Boisvert, 17, of Chandler, Ariz., for finding a link between water contaminants and a dangerous fungus.
The rest of the finalists, who spent the week touring Washington and presenting their research to the public and their congressional representatives, will each receive $7,500. The finalists were also invited to the White House by President Obama, who personally praised their work and urged them to continue to pursue science.
Intel president and CEO Paul Otellini told the honorees, "We celebrate you. You are our role models."
Subscribe to Science News
Get great science journalism, from the most trusted source, delivered to your doorstep.
This year's Intel STS winners don't excel just at academics (even though five of the 40 finalists recorded perfect SAT scores). Over half of the finalists are musicians, 17 are varsity athletes and eight are writers or editors for their school publications. In addition to pursuing a career as a behavioral biologist, second-place winner Hackman hopes to continue her journalism efforts, which include publishing technology articles for The Suit magazine.
The finalists join a distinguished list of STS alumni, including seven Nobel laureates, four National Medal of Science winners, and 11 MacArthur Fellows.
"You will be leaders in your fields," said guest speaker Miles O'Brien, a science correspondent on PBS NewsHour. You will solve, we hope, the world's myriad problems. I believe you have a moral obligation to reach out, to educate, to inform and inspire the rest of us."
Finalist Shubhro Saha, 17, of Avon, Conn., was elected by the other finalists to receive the Glenn T. Seaborg award, named for the late chemist who won the Nobel Prize in Chemistry in 1951. Seaborg served as a Science Talent Search judge for decades. In an address at the gala, Saha thanked all of the mentors, teachers and parents who had believed in him and his fellow finalists.
"We may be young scientists," Saha said, "but we were able to accomplish so much because of this belief."