I was halfway through my appetizer when the lights went dim in the Blue Hall—an ornate and cavernous room in the Stockholm City Hall. A spotlight scanned the elegant brick space and its 1,300 well-dressed guests, then came to rest on two opera singers. They stood on a grand stairway. Behind them was the sparkling Golden Hall, with its 18 million mosaic pieces of glass and gold. The performance that followed, "Homage to Wolfgang Amadeus Mozart," included an operatic rendition of a refrain from the Simon and Garfunkel song "The 59th Street Bridge Song (Feeling Groovy)." When the singing ended, the lights came back on. We all picked up our forks and resumed eating.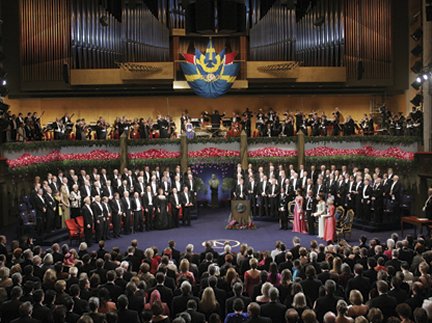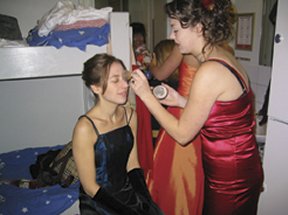 "Just another day at the Nobel prize ceremonies," I said, before washing down a bite of lobster-tomato pâté with a sip of Dom Perignon, vintage 1995.
As a journalist who covers science and health, usually for publications aimed at young people, I am often surprised at the access I have to people and places. But the Nobel prize ceremonies are a special case. The prizes are the most coveted awards in science, literature, economics, and social accomplishment. To win one of the three science prizes given each year, researchers must shake the foundations of what we know, usually by creating a fundamental shift in the way we think about things. "The world should not be the same after the discovery as it was before," says Hans Jörnvall, secretary of the Nobel Committee for Physiology or Medicine.
Scientists dream of winning these prizes, which set them up with eternal honor and a comfortable sum of money—$1.3 million this year—to be split among the winners in each category. Almost as intensely, Swedes dream of attending the awards ceremony and the grand party that follows.
Subscribe to Science News
Get great science journalism, from the most trusted source, delivered to your doorstep.
Just as people in the United States gather around their television sets every February to watch the Academy Awards ceremony honoring stars of the film industry, everyone in Sweden is glued to the television each Dec. 10, when King Karl XVI Gustav hands out the Nobel prizes in chemistry, physics, medicine or physiology, economics, and literature. (The Nobel Peace Prize is awarded the same day in Oslo.)
In both the Oscar and Nobel ceremonies, glamour is a major draw. There are famous people, gorgeous dresses, and, perhaps most appealing of all, lots of exclusivity.
Journalism, in my experience, is not a high-glamour job, and I am not a high-glamour person. I sometimes work at home in my pajamas. I don't know how to put on eyeliner. I've never yearned to attend a ball. Nevertheless, I was delighted to find myself scouring the streets of Stockholm last Dec. 8, looking for the perfect gown to wear to the Nobel festivities.
I had been very lucky to score a seat. I was in Stockholm that week to write about a group of young scientists who would be attending the Nobel events as part of an annual program called the Stockholm International Youth Science Seminar (SIYSS). The program's 24 participants came from 15 countries. All were between the ages of 18 and 24, and each had either won national or international science fairs or been selected by their universities or countries on the basis of the strength of their research. The organizers of SIYSS agreed to let me embed myself with the group for a busy week that included meetings with members of Nobel committees, tours of science institutions, and ballroom dancing lessons (for the thrilling details of that last item, go to http://www.sciencenewsforkids.org/articles/20050105/Feature1.asp).
When it came to getting a ticket for the actual festivities, however, I was on my own. My only hope was an appeal to the Swedish Ministry of Foreign Affairs, and everyone I spoke to in Sweden made it clear that my chances were extremely slim. More than 70 members of the foreign press applied in 2004, I was later told. Only 12 would be allowed in. A week before my plane left for Stockholm, I learned that I was one of them.
Once in Sweden, with a ball gown picked out and altered to fit me—at 5 feet 2 inches, I'm smaller than the average Swede—I joined the young women in my group for a morning at the hair salon. A hairdresser there invested an entire can of hairspray on my do. Then, we returned to our rooms at the local youth hostel to apply makeup and other finishing touches, while the young men dressed in tails. At 3 p.m., a line of white limos arrived to drive us around Stockholm, in style, until 4:30 p.m., when the ceremonies would begin.
By the time we arrived at the Stockholm Concert Hall, a few minutes from the lavish city hall where we would end the evening, it was as dark as only a Scandinavian winter afternoon can be. People in heavy coats lined up behind barricades on the street, struggling to get glimpses of the rich and famous emerging from their limos. A helicopter hovered overhead. For the first time in my life, I felt like a movie star.
At the concert hall ceremony, I sat on the edge of my assigned seat in the front row of the second balcony. After a formal procession, the royal family took seats onstage opposite the new Nobel laureates, with the Nobel Committee members behind them. Bengt Samuelsson, chairman of the board of the Nobel Foundation, opened with a speech about women in science and culture. He had been inspired by the unusual cluster of 3 women among the 12 winners of Nobel prizes this year.
"If we include the Nobel prizes in literature and peace," Samuelsson said, "31 of all 705 Nobel prizes awarded between 1901 and 2003 were given to women—that is, a bit more than 4 percent." Part of the problem, he said, is that the science prizes tend to go to people who made their discoveries several decades back. Women simply didn't have the same opportunities in science in the 1970s and 1980s as they do today, he said.
Samuelsson continued, "If the history of the Nobel prize during its first century was a reflection of the 19th- and early 20th-century values, maybe this year's awards are a glimpse of the changes we will see during this century."
The award for each discipline began with an introduction in Swedish by a member of the appropriate selection committees. One by one, each winner then walked to the center of the stage to meet the king, who walked from the opposite side of the stage.
Whenever the king stood, so did all the rest of us. After accepting his or her award, each laureate bowed to the king, turned and bowed to the committee, then faced the audience and bowed again, at which point we clapped. The bows were accompanied by a trumpet fanfare. Between each round of awards and the next speech, everyone sat down—king first—for a symphony performance.
Linda B. Buck of the University of Washington in Seattle earned an especially long round of applause as she was awarded the prize in physiology or medicine.
When the ceremony was over, shuttle buses carried us to the city hall. I checked my coat, stood in a long line for the ladies' room, then found my assigned seat at a table that included reporters from the Associated Press, Agence France-Presse, Reuters, Norwegian television, and an Israeli university. Altogether, there were 65 tables set with about 7,000 pieces of porcelain and 10,000 pieces of silverware. Surrounded by nearly 10,000 flowers, we drank out of 5,000 glasses. I counted seven beverages, including the champagne, a red Château Corbin Michotte 1993, a white Château Raymond-Lafon 1998, and an after-dinner cognac.
Everything about the exquisite meal is kept secret until the guests are seated and, even then, reading the menu requires knowledge of French. I was so taken by the atmosphere and conversation that I barely remember the main course—a filet of veal in red wine (a vegetarian version for me) with a mixed array of tubers—but the dessert was a tour de force. It arrived with a flourish, introduced by the second half of the opera performance. The final song turned into a march of a throng of singers, followed by all 200 waiters descending the stairs in unison. Each server carried a tray of almond mousse topped with a delicate layer of white chocolate and a scoop of almond ice cream, garnished with tart yellow cloudberries, and a sprig of dark chocolate.
How do you keep 1,300 plates of ice cream from melting during such a grand march? That is one of the many unanswered questions that contribute to the Nobel mystique.
By this point in the evening, after nearly 4 hours of eating and drinking, I had almost forgotten why we were all there—to celebrate some of the greatest minds in the world. But before we could float up to the Golden Hall for dancing and more after-dinner drinks, each solo laureate or a member of a Nobel-winning team delivered a brief speech of thanks.
David J. Gross, one of the three winners of the physics prize, wondered whether such lavish celebrations could be sustained. "Fortunately, nature is as generous with its problems as Nobel was with his fortune. The more we know, the more we are aware of what we know not. Indeed, the most important product of knowledge is ignorance," Gross said. "I am happy to report that there is no evidence that we are running out of our most important resource—ignorance. How lucky for science. How lucky for scientists. And how lucky for the Nobel Foundation."
Richard Axel of Columbia University, the cowinner of the prize in physiology or medicine, spoke about how winning a Nobel prize had made him appreciate how much he loves what he does. Axel and Buck were honored for major advances in understanding the human sense of smell.
"While performing these experiments," Axel said, "in watching the data unfold remarkably before our eyes, it seemed inconceivable that we could experience a moment of greater joy or fulfillment. But tonight we stand with you, with their majesties the king and queen, with fellow scientists, with honored guests and friends, amidst the lights, the music, the trumpets, the wine, and feel an affection that adds a new and very human dimension to our science. In the midst of this joy of these festivities, I raise my glass to celebrate you."
As a journalist, I'll drink to that.
Emily Sohn writes for Science News for Kids and covers health and science for a variety of other publications.