Peru's plenty brought ancient human migration to a crawl
Abundant food let early Americans stay put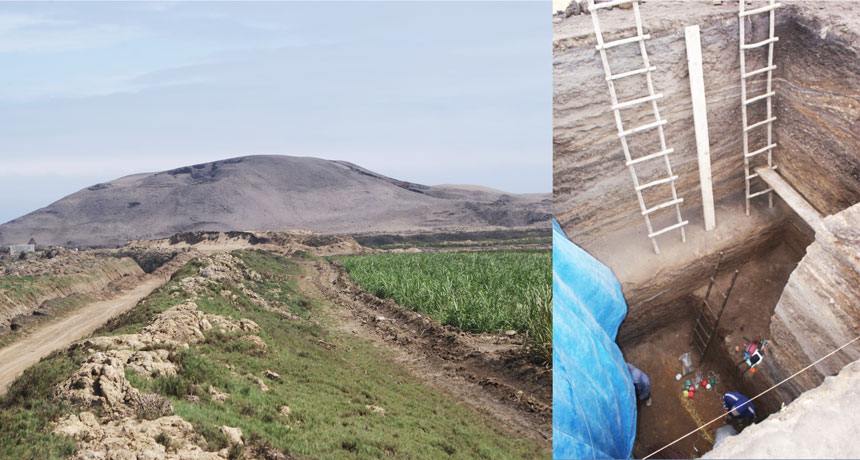 Some of the earliest settlers of the Americas curtailed their coastal migration to hunker down in what's now northwestern Peru, new finds suggest. Although researchers have often assumed that shoreline colonizers of the New World kept heading south from Alaska in search of marine foods, staying put in some spots made sense: Hunter-gatherers needed only simple tools to exploit rich coastal and inland food sources for thousands of years.
Excavations at two seaside sites in Peru find that people intermittently camped there from about 15,000 to 8,000 years ago, say anthropologist Tom Dillehay of Vanderbilt University in Nashville and his colleagues. Ancient people along Peru's Pacific coast didn't leave behind fishhooks, harpoons, nets or boats that could have been used to capture fish, sharks and sea lions, the scientists report May 24 in Science Advances. Yet remains of those sea creatures turned up at coastal campsites now buried beneath a human-made, earthen mound called Huaca Prieta and an adjacent mound called Paredones. Fish and other marine animals probably washed up on beaches or were trapped in lagoons that formed near the shore, Dillehay's group proposes. Hungry humans needed only nets or clubs to subdue these prey.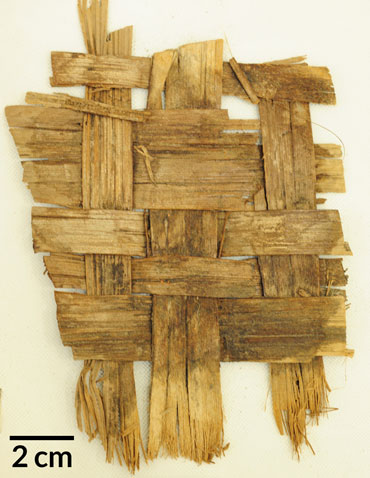 Other marine foods found at the ancient Peruvian campsites included snails, crabs, clams, sea gulls and pelicans. Fragments of material woven out of rush plants, the earliest dating to between 10,600 and 11,159 years ago, may have come from fish traps or baskets, the researchers say.
Radiocarbon dating of burned wood, animal bones and plant seeds provided age estimates for a series of buried campsites at Huaca Prieta and Paredones.
Present-day hunters on Peru's coast eat fish and small sharks that get trapped on the beach or in shallow shoreline lagoons. Hunters also build blinds where they wait to net and club birds, a tactic probably also used by ancient Americans, the investigators suspect.
Deer bones indicate that ancient Huaca Prieta and Paredones visitors hunted on land as well. And remains of avocado, beans and possibly cultivated squash and chili peppers at the ancient campsites — foods known to have been gathered or grown at inland locations — suggest that people transported these foods to the coast, possibly via trading.
Subscribe to Science News
Get great science journalism, from the most trusted source, delivered to your doorstep.
Evidence that early New World settlers trekked back and forth from coastal to interior parts of Peru coincides with similar human movements in southern Chile more than 14,000 years ago (SN Online: 5/8/08). A team led by Dillehay uncovered seaweed fragments in hearths and structures at Monte Verde II, located 30 kilometers from Chile's coast. Edible rushes, reeds and stones from the coast also turned up at Monte Verde II.
"Just as there was some contact with the sea at Monte Verde II, there was some contact with the interior at Huaca Prieta," Dillehay says.
Simple stone tools, sharpened on one side, dominate implements excavated at the Peruvian sites and at Monte Verde II. Basic tools suitable for all sorts of cutting and scraping tasks fit a lifestyle in which people sought food across varied landscapes, the researchers contend.
Story continues after graphic
One-sided finds
Scientists found simple stone tools, sharpened on one side, at ancient sites on Peru's coast. Arrows point to areas where stones were intentionally modified. These implements date to between 15,000 and 13,500 years ago, the researchers estimate.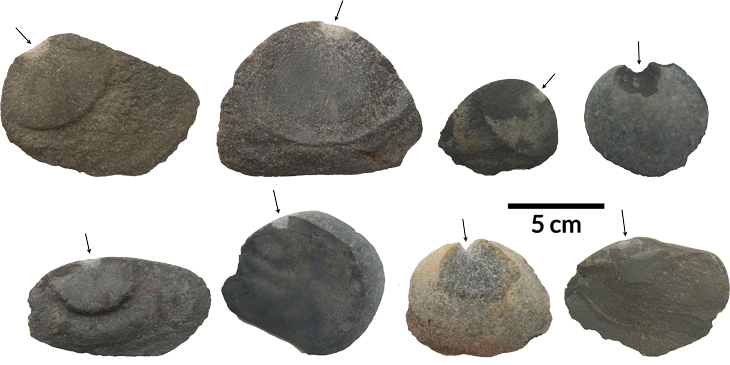 Similar conditions may have characterized some North American coastlines by around 15,000 years ago, Dillehay says. "The problem is that these areas are now underwater" due to a global sea level rise between 20,000 and 6,000 years ago (SN: 8/13/11, p. 22).
Accumulating evidence supports the idea that early Americans favored the coast over an inland lifestyle, says archaeologist Daniel Sandweiss of the University of Maine in Orono. An ice-free corridor into North America's interior may not have formed before 12,600 years ago (SN Online: 8/10/16), after people had reached Peru and Chile.
The pace at which people moved south from Huaca Prieta is unknown, Sandweiss says. Monte Verde II dates to roughly 500 years after the first coastal campsites in Peru, raising the possibility that Huaca Prieta folk founded the Chilean site, he suggests.
Dillehay doubts it. Modern hunter-gatherer groups vary greatly in size but usually don't exceed several hundred members, making it unlikely that ancient Huaca Prieta and Paredones people were numerous enough to encounter food shortages, he says. Even if food ran out, hunter-gatherers only had to move a few kilometers north or south to find abundant grub. "We really don't know where these people were coming and going," Dillehay cautions.