Pregnancy depression is on the rise, a survey suggests
Expectant women may be more anxious or depressed than their mothers were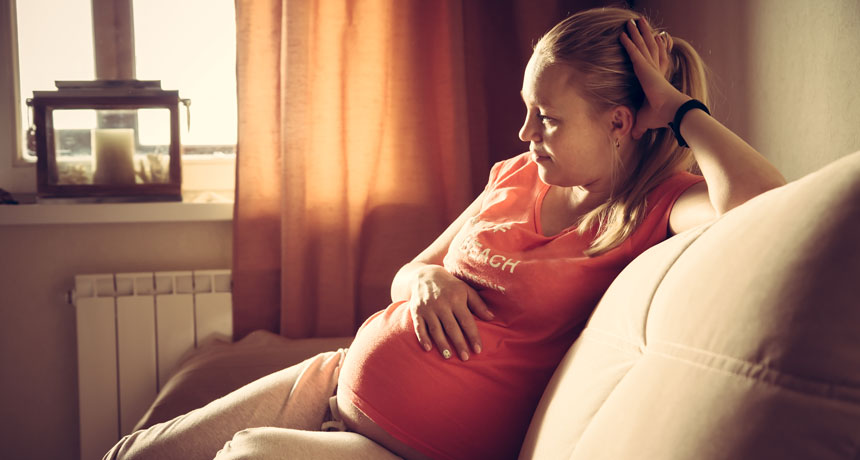 Today's young women are more likely to experience depression and anxiety during pregnancy than their mothers were, a generation-spanning survey finds.
From 1990 to 1992, about 17 percent of young pregnant women in southwest England who participated in the study had signs of depressed mood. But the generation that followed, including these women's daughters and sons' partners, fared worse. Twenty-five percent of these young women, pregnant in 2012 to 2016, showed signs of depression, researchers report July 13 in JAMA Network Open.
"We are talking about a lot of women," says study coauthor Rebecca Pearson, a psychiatric epidemiologist at Bristol University in England.
Earlier studies also had suggested that depression during and after pregnancy is relatively common (SN: 3/17/18, p. 16). But those studies are dated, Pearson says. "We know very little about the levels of depression and anxiety in new mums today," she says.
To measure symptoms of depression and anxiety, researchers used the Edinburgh Postnatal Depression Scale — 10 questions, each with a score of 0 to 3, written to reveal risk of depression during and after pregnancy. A combined score of 13 and above signals high levels of symptoms.
From 1990 to 1992, 2,390 women between the ages of 19 and 24 took the survey while pregnant. Of these women, 408 — or 17 percent — scored 13 or higher, indicating worrisome levels of depression or anxiety.
When researchers surveyed the second-generation women, including both daughters of the original participants and sons' partners ages 19 to 24, the numbers were higher. Of 180 women pregnant in 2012 to 2016, 45 of them — or 25 percent — scored 13 or more. It's not clear whether the findings would be similar for pregnant women who are older than 24 or younger than 19.
Subscribe to Science News
Get great science journalism, from the most trusted source, delivered to your doorstep.
Today's struggles
Women pregnant in 2012 to 2016 (blue) were more likely to report experiencing certain negative feelings, such as unnecessary panic or fear, during and after pregnancy than their mothers' generation (orange), who were pregnant in 1990 to 1992.
Self-reported ratings on depression survey items by two generations of pregnant women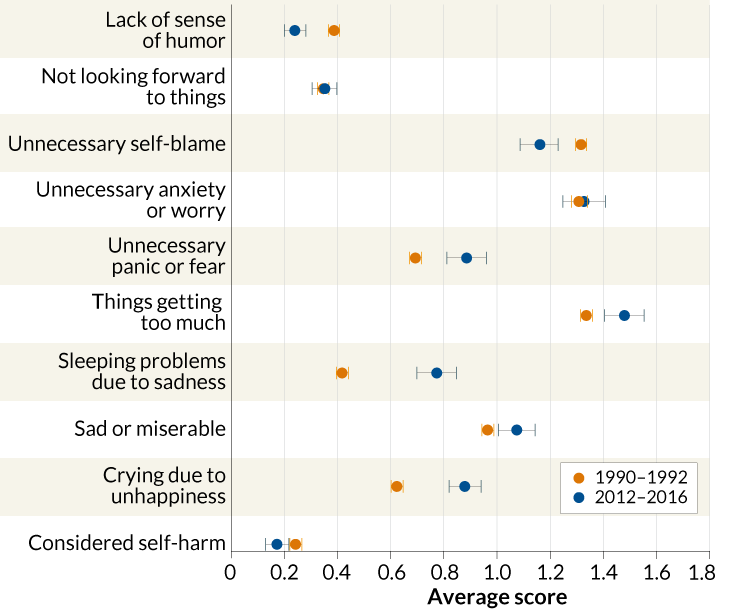 That generational increase in young women scoring high for symptoms of depression comes in large part from higher scores on questions that indicate anxiety and stress, Pearson says. Today's pregnant women reported frequent feelings of "unnecessary panic or fear" and "things getting too much," for instance.
Those findings fit with observations by psychiatrist Anna Glezer of the University of California, San Francisco. "A very significant portion of my patients present with their primary problem as anxiety, as opposed to a low mood," says Glezer, who has a practice in Burlingame, Calif.
The study's cutoff score for indicating high depression risk was 13, but Pearson points out that a lower score can signal mild depression. Women who score an 8 or 9 "still aren't feeling great," she says. It's likely that even more pregnant women might have less severe, but still unpleasant symptoms, she says.
The researchers also found that depression moves through families. Daughters of women who were depressed during pregnancy were about three times as likely to be depressed during their own pregnancy than women whose mothers weren't depressed. That elevated risk "was news to me," says obstetrician and gynecologist John Keats, who chaired a group of the American College of Obstetricians and Gynecologists that studied maternal mental health. Asking about whether a patient's mother experienced depression or anxiety while pregnant might help identify women at risk, he says.
Negative effects of stress can be transmitted during pregnancy in ways that scientists are just beginning to understand, and stopping this cycle is important (SN Online: 7/9/18). "You're not only talking about the effects on a patient and her family, but potential effects on her growing fetus and newborn," says Keats, of the David Geffen School of Medicine at UCLA.
Although researchers don't yet know what's behind the increase, they have some guesses. More mothers work today than in the 1990s, and tougher financial straits push women to work inflexible jobs. More stress, less sleep and more time sitting may contribute to the difference.
Time on social media may also increase feelings of isolation and anxiety, Glezer says. Social media can help new moms get information, but that often comes with "a whole lot of comparisons, judgments and expectations."