To combat environmental degradation and preserve resources off the nation's shores, the U.S. government needs to double its investment in marine research, integrate management of coastal and inland ecosystems, and restructure the agencies that influence the oceans. The U.S. Commission on Ocean Policy, mandated by Congress and appointed by President Bush in 2001, issued these and other far-reaching recommendations in a report this week.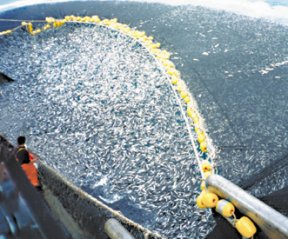 "Our existing, fragmented system of managing the oceans and coasts is simply not up to the challenges at hand," says the commission's chairman, retired Admiral James D. Watkins. He and his colleagues take aim at outdated administrative mechanisms that they consider unfit to handle mounting pollution, declining fish populations and coral reefs, and promising new industries such as aquaculture.
The commission recommends strongly that the United States accept the United Nations' Law of the Seas treaty, which other nations ratified in 1994. Proposals also include creating a position of presidential advisor on marine issues, setting concrete goals for reduced water pollution, and separating the scientific setting of harvest limits from the practicalities of fisheries management.
The report recommends reorganizing certain government divisions to streamline oversight of aquaculture, coastal recreation, commercial fishing, shipping, oil and gas extraction, and other oceanic activities. Such a "coordinated offshore management regime" depends in particular on expanding the National Oceanic and Atmospheric Administration (NOAA), Watkins says.
Regulations also need to reflect that ecosystem boundaries don't conform to state lines, the commission says. Management according to ecological units, as opposed to jurisdictions, would better link coastal waters to their inland watersheds.
To offset the estimated $3.2 billion annual cost of implementing these recommendations—including a doubling of the $650 million spent on coastal and oceanic research—the commission advises Congress to set aside tax and permit revenues from industries such as fish farms and oil fields that use offshore resources.
Funding for ocean research was 7 percent of the total federal research budget 25 years ago but is just 3.5 percent today. The Bush administration's proposed 2005 budget continues this decline, says Kei Koizumi, a science-policy analyst at the American Association for the Advancement of Science in Washington, D.C. The budget reduces funding for ocean research sponsored by NOAA's Oceanic and Atmospheric Research Division and the Navy—two of the largest government sources of such research—and some other agencies.
Subscribe to Science News
Get great science journalism, from the most trusted source, delivered to your doorstep.
The government commission's 16 members include marine scientists, representatives of maritime industries, and former government administrators. Their report agrees in broad strokes with many of the recommendations that the privately funded Pew Oceans Commission issued last June.
"The current framework of regulatory agencies was set up over 30 years ago," says Pietro Parravano, who represented commercial fishing groups on the Pew commission. "It's comforting that another set of individuals came up with the same sort of findings and recommendations."
At a news conference on Capitol Hill on April 20, Sen. Ted Stevens (R-Alaska) said, "We do need this Law of the Seas [treaty] approved." Stevens had long opposed the treaty.
Members of the bipartisan House Oceans Caucus stressed the need to restructure the executive agencies that govern coasts and oceans. They also advocated a comprehensive bill addressing legislative aspects of the commission's recommendations. "We have to pull all the threads together," says Rep. Tom Allen (D-Maine).
The U.S. commission is accepting public feedback on the preliminary report through May 21.