Hydrocarbons in the fluids spewing from a set of hydrothermal vents on the seafloor of the central Atlantic were produced by inorganic chemical reactions within the ocean crust, scientists suggest. The finding holds possibly profound implications for the origins of life.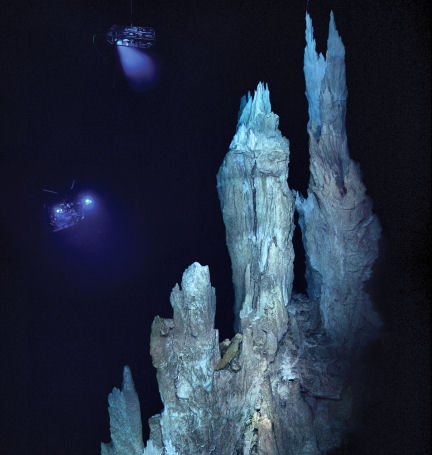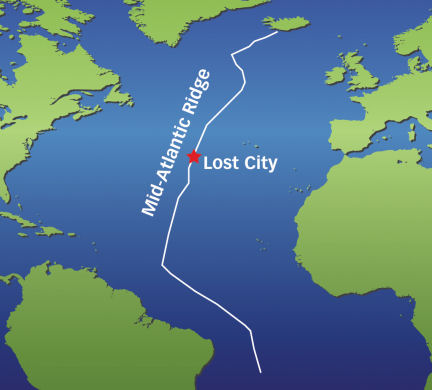 The Lost City hydrothermal field, which sits on the side of an undersea mountain about 2,500 kilometers east of Bermuda, was discovered in December 2000 (SN: 7/14/01, p. 21). Unlike most hydrothermal vents, which crop up along midocean ridges where tectonic plates spread to form new seafloor, those of the Lost City lie about 15 km west of the Mid-Atlantic Ridge on ocean crust that's about 1.5 million years old. Accordingly, the chemistry of the fluids surging from the Lost City vents differs radically from that found at other hydrothermal sites, says Giora Proskurowski, a geochemist at Woods Hole (Mass.) Oceanographic Institution.
Science News headlines, in your inbox
Headlines and summaries of the latest Science News articles, delivered to your email inbox every Thursday.
Thank you for signing up!
There was a problem signing you up.
Most hydrothermal vents spew a highly acidic, mineral-rich broth at temperatures as high as 400°C. The sulfide minerals that precipitate when those hot fluids mix with near-freezing seawater form dark, crumbly chimneys that typically reach heights of only 20 meters or so before they collapse. At the Lost City site, however, vent fluids are alkaline, have temperatures between 28°C and 90°C, and are rich in dissolved carbonates, Proskurowski notes. Because carbonate minerals are much stronger than sulfides, the lofty white chimneys that form in the Lost City can grow at least 60 m tall.
Lost City fluids also contain small quantities of hydrocarbons such as methane, ethane, and butane. A number of clues suggests that those substances, whose natural production usually results from the long-term heating of sediment rich in organic matter, were actually produced by inorganic chemical reactions, Proskurowski says. First, the rocks beneath the Lost City don't contain large amounts of organic matter. Second, the hydrothermal fluids are rich in dissolved hydrogen but contain a much lower than normal concentration of dissolved carbon dioxide. This suggests that what are called Fischer-Tropsch inorganic chemical reactions, which convert carbon dioxide, carbon monoxide, and hydrogen into hydrocarbons, generated the substances.
Subscribe to Science News
Get great science journalism, from the most trusted source, delivered to your doorstep.
Finally, the proportion of the carbon-13 isotope in the hydrocarbons found in the Lost City fluids drops as the size of the hydrocarbon molecule grows, a trend opposite that found in sediment-derived hydrocarbons but characteristic of those generated by inorganic reactions, Proskurowski and his colleagues report in the Feb. 1 Science.
Although some types of microorganisms that inhabit the mineral chimneys in the Lost City may have generated a portion of the fluids' dissolved methane, none found there could have produced the ethane, butane, or other organic compounds in the vents' brew. Finding butane in the fluids is particularly important, because that hydrocarbon is a building block for some of the organic substances found in cell membranes, Proskurowski notes.
"If what they've found is right, it has significant implications for the origin of life," says Allan J. Hall, a geochemist at the University of Glasgow in Scotland.
Robert M. Hazen, a geophysicist at the Carnegie Institution of Washington (D.C.), agrees: "This is an exciting finding … that demonstrates there are so many ways to make hydrocarbons in an abiogenic setting." The largest barrier to making the complex, sulfur- and nitrogen-bearing molecules characteristic of living organisms is creating long-chain hydrocarbon precursors like those found in the Lost City fluids, he says.