Students honored for research
The top 10 finalists received $20,000 or more
WASHINGTON — Sara Volz gasped in amazement when she heard her name called. The 17-year-old finalist had just been named the $100,000 grand-prize winner at the March 12 awards gala of the 2013 Intel Science Talent Search.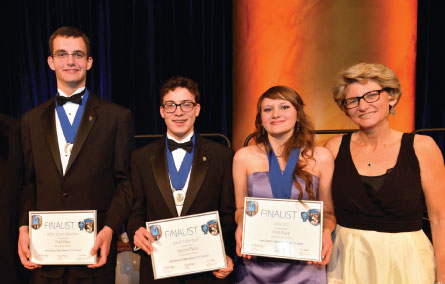 A high school student from Colorado Springs, Colo., Volz rushed across a stage in the National Building Museum's Great Hall. Decked out in a lavender satin dress, the teenager laughed and smiled as blue and white balloons rained down on the winners.
Volz's project, an experiment to pump up algal oil levels for use in biofuel, began in her bedroom. The teenager grew algae in 40 glass flasks underneath her loft bed, and used an herbicide to kill cells that dribbled out only tiny amounts of oil. Over multiple generations of algal growth, the protocol resulted in cells with naturally elevated levels of oil production.
Volz tended her algae garden almost every day, checking it regularly for evaporation and keeping it on strict light-dark cycles. "It's basically like having a pet," she joked. This fall, Volz plans to head to college at MIT.
Her winning research topped the projects of 39 other Intel STS finalists (SN: 2/9/13, p. 14). In total, the competition received 1,712 entries from 42 states, the District of Columbia, Guam and two U.S. schools overseas.
"SSP and Intel could not be prouder of the Intel Science Talent Search finalists of 2013," said Elizabeth Marincola, president of Society for Science & the Public and publisher of Science News.
At the ceremony, the Intel Foundation awarded a total of $630,000 to the 40 finalists of the Intel STS, a program of SSP first established in 1942. Intel began sponsoring the competition in 1998.
The Intel Foundation awarded second place and $75,000 to Jonah Kallenbach from Ambler, Pa. The 17-year-old figured out a way to better predict how different drugs latch onto proteins. His work could give researchers a new method for designing drugs that target specific molecules.
Third place and $50,000 went to Adam Joseph Bowman, 17, of Brentwood, Tenn., who constructed a plasma gun in his garage from parts he bought on eBay. He also designed an inexpensive fiber optics system to follow the plasma's movement. "I've always enjoyed building things," he said. Bowman has been refining his plasma gun since he was 14.
---
Top 10 Winners
The 40 finalists in this year's Intel Science Talent Search received a total of $630,000 in awards for their research. The top 10 received $20,000 or more.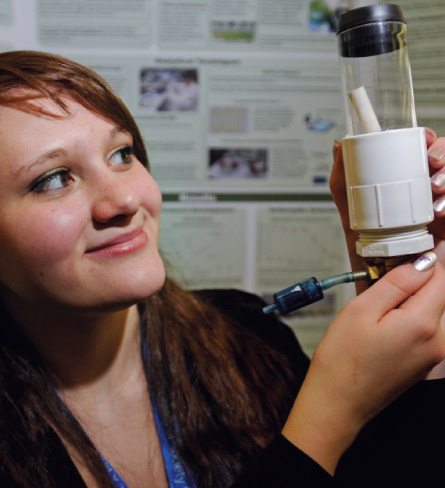 Chris Ayers Photography/SSP
1st place Sara Volz (pictured above), 17, Colorado Springs, Colo. $100,000 for research in algae-based biofuels.
2nd place Jonah Kallenbach, 17, Ambler, Pa. $75,000 for work in drug-protein binding.
Subscribe to Science News
Get great science journalism, from the most trusted source, delivered to your doorstep.
3rd place Adam Joseph Bowman, 17, Brentwood, Tenn. $50,000 for designing and building an inexpensive, low-energy pulsed plasma device.
4th place Hannah Kerner Larson, 18, Eugene, Ore. $40,000 for research on mathematical structures important in theoretical physics and computer science.
5th place Peter Kraft, 17, of Munster, Ind. $30,000 for synthesis of 10 molecules known as coordination polymers, which could be useful in gas purification and hydrogen fuel storage.
6th place Kensen Shi, 17, of College Station, Texas. $25,000 for an algorithm that helps robots navigate around obstacles.
7th place Samuel Zbarsky, 17, of Rockville, Md. $25,000 for mathematical research that could improve the efficiency of computer networks.
8th place Brittany Wenger, 18, of Sarasota, Fla. $20,000 for a computer program that analyzes breast biopsy samples.
9th place Akshay Padmanabha, 16, of Collierville, Tenn. $20,000 for a method of detecting epileptic seizures.
10th place Sahana Vasudevan, 16, of Palo Alto, Calif. $20,000 for a mathematics project that could lead to faster computer algorithms.